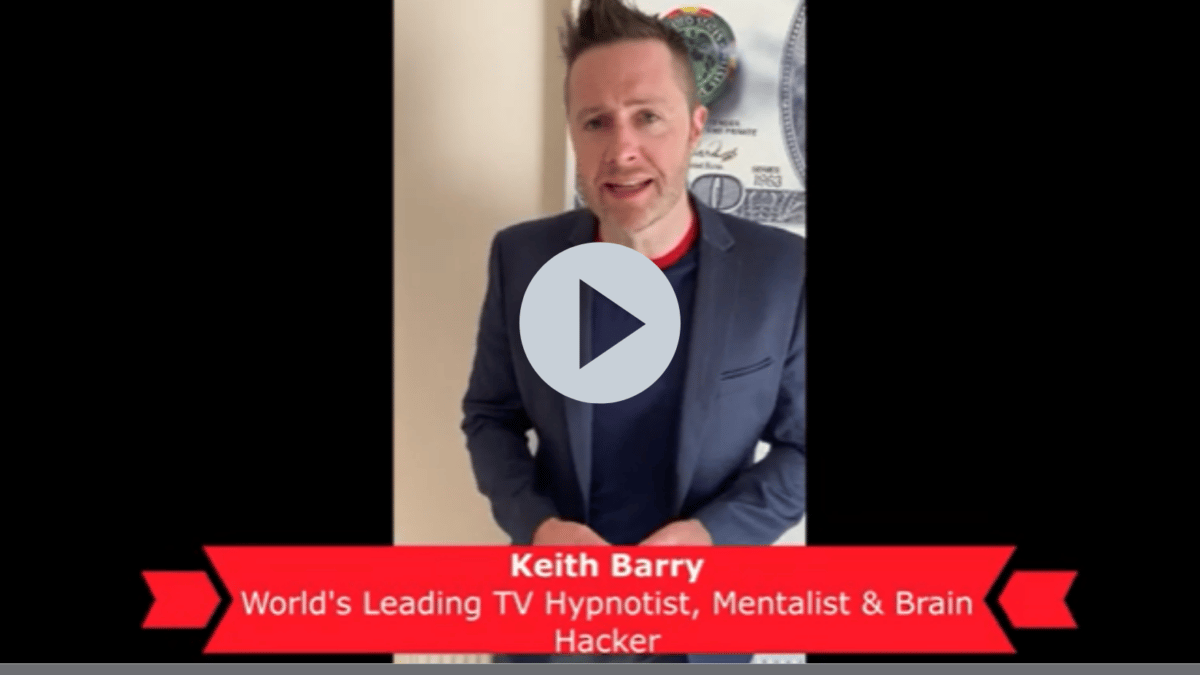 Front Row Speakers Inspires: Keith Barry
World-renowned Mentalist and Magician, Keith Barry, shows us how to stay positive with our minds while staying at home. The formidable Subconscious Mind specialist, who inspired Pendulum delegates to breakthrough barriers at Pendulum Summit 2018. Keith Barry is the world's leading hypnotist, mentalist and brain hacker. He graduated with a first-class honours degree from NUIG in chemistry, and has since ascended to the pinnacle of his profession. A renowned performer, he has toured for many years showcasing his skills in every corner of the globe.
According to Keith, right now our environment is like a rubik's cube… It is all muddled up the moment but ultimately there are 43 quintillion variations on a rubik's cube. In our minds, just like solving a rubik's cube, we can solve the mental issues we are having right now – but how do we do that?
You have got to magnify the positive in your life right now and shrink down the negative by stopping yourself from looking at the news all day long.
Create a structure around your day and what your brain is absorbing because the information you are absorbing now and who you are connecting with is what will make a difference when the world opens back up. Read books, listen to podcasts, online courses or webinars, anything that can help you with maintaining your mental well-being.
Take it easy on yourself and don't be overly critical at this moment in time as it is very important to look after your mindset. Use this time to spend quality time with your family doing different activities like cards, creating assault courses in the back garden for the kids, gardening, just generally doing activities you wouldn't necessarily be able to do if it was normal circumstances.
Figure out what your intent is. All of our intent should be the same and that should be to engage in actions that not just benefit us, but also benefit the people around us.
You can view Keith's profile here or email welcome@frontrowspeakers.com for more info!
Front Row Speakers has the right virtual solution for your next event. All of our solutions can be undertaken individually or in groups, or they can be rolled out organisation wide. It's really easy to get set-up and through a collaborative approach, we can co-create the perfect solution with you, based on your specific goals and budget.
Online Events
We source the perfect speaker based on your chosen topic. We set up a virtual event where you and your team can simply click on a link and get access to the speaker. This can be live or pre-recorded, interactive or self-paced.
Inspirational Talks
We have a vast library of exceptional speaker talks from some of the world's most respected voices in leadership, motivation, wellness, sales, communication and more. We work with you to match the perfect speaker to the message you want to achieve. So whether it's an inspirational talk to uplift your team, a wellness masterclass, a high impact sales masterclass, or a deep dive into emotional intelligence – we have the solution for you.
Contact us today welcome@frontrowspeakers.com to co-create the perfect solution to ensure you and your team are staying inspired and motivated during this unprecedented time.