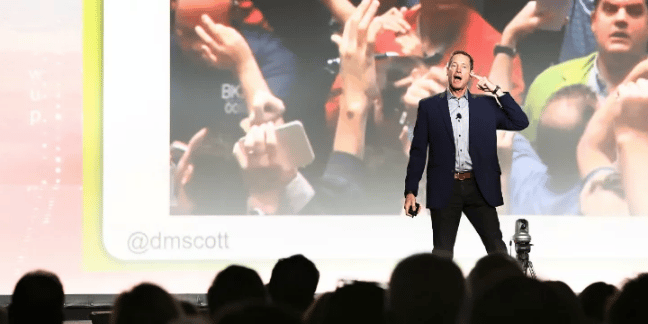 Front Row Speakers' David Meerman Scott on How You Can Turn Customers into Fans
David Meerman Scott, Wall Street Journal best-selling author of 10 previous books, including The New Rules of Marketing & PR, has made a career out of transcending "traditional" marketing approaches. However, one thing he has never wavered on is the value of the customer. And he's doubling down on this in his book released in 2020, for which he teamed up with his daughter, Reiko Scott, who earned her neuroscience degree from Columbia University and is now a medical student at Boston University School of Medicine.
Their latest book, Fanocracy: Turning Fans Into Customers and Customers Into Fans (January 2020, Portfolio), is all about customer connection. Not only do David and Reiko believe their approach will deliver a clear competitive advantage, regardless of business category, they believe it will spread more joy and inspiration to the world.
In light of the publication, David and Reiko offer some insights into why you should be building a business based on fandom.
What is a Fanocracy?
David: We define Fanocracy as an organization that inspires extreme passion for a product, brand, or idea by putting customers' needs and wishes at the center of everything it does. Fanocracy is a force critical for massive success.
I'm a big-time live music geek and have been to 790 live concerts since I was 15 years old (yes, I keep a spreadsheet). I've always wondered what makes me such a passionate music fan and decided to find the answer. My daughter, who is equally passionate about Harry Potter, is an ideal co-author. She's from a different generation–I'm a Boomer, and she's a Millennial, is a different gender, and has different fandoms. She also comes at the question from the scientific perspective, which complements my marketing background.
After studying fandom for five years now, we believe the relationship we build with customers is more important than the products and services we sell them.
The fundamental ingredient for true fandom–meaningful and active human connection–demonstrates a shift in the way a company relates with its customers. Companies that have fans are more forthright, helpful, and transparent. They create new experiences and along the way, turn customers into like-minded, enthusiastic fans.
Why should we be thinking about fandom these days?
David: Social networks such as Facebook and content distribution services like YouTube are free, simple to use, and reach every human on the planet with an internet connection. So, it's no wonder billions of people around the world have gravitated to them. However, the result is a polarizing and cold digital world. We get tidal waves of spam email and social networks that display advertisements instead of messages from our friends and fake news instead of what we as humans really need to know to lead fulfilling productive lives.
The pendulum has swung too far in the direction of superficial online communications at a time when people are hungry for true human connection.
The solution isn't to do more of the same. It takes more heart to start a movement.
In a digital world where our lives are increasingly cluttered and superficial, we're missing something tremendously powerful: genuine human connection. People are most invested in that which creates a sense of intimacy, warmth, and shared meaning in a world that would otherwise relegate them to a statistic.
Building connections to like-minded people leads to success in our business and joy in our heart.
How did you become interested in the idea of fandom?
Reiko: I love to cosplay and have been to the New York City Comic Con at the Javits Convention Center five years in a row. Fandom begins with the creation of a common language that allows us to connect at places like Comic Con, even with people we've never met before.
It takes effort and courage for my friends and I to dress up. Yet when we do, we find we aren't putting on another persona. Rather, we're reflecting a part of ourselves that we couldn't show any other way. And it magnifies my fandom of the books and characters I dress as.
What I've seen is that many companies feel people shouldn't transform their work in any way. Some even ban people from doing so through trademark and copyright law. YouTube mashups, sharing on services like Instagram, and other fan-created art can invite legal reprisals.
However, Fanocracy is built on the experiences of all its members, rather than limited to the imagination of one creator.
Once you put your art, product, or service out into the world, it's no longer solely yours. It takes time to find that place where you can let go of your creations and understand the heart of your fans. You may make mistakes, but building mutual respect between fandom and creator, each in your own space, will ultimately be the most rewarding.
Fans who are free to take ownership of part of the universe you've created take what you've done to a realm you never thought possible. And through that, they make a powerful connection.
Why is passion important for businesses to develop fans?
Reiko: Fanocracy is a way to say to the world: "This is who I am. This is what I love. Please, join me in this joy."
Many of us worry that pouring our hearts into the activities we love will affect how others see us, that somehow it will cloud our judgment and turn us into clueless fanatics–the gamer in his basement, or the crazy screaming sports fan. Fandom, for some people, is seen as escapism, deemed childish or a waste of time, not something for "professionals." For a long time, I was hesitant to share what I liked because I was self-conscious about how I might be perceived.
Customers expect to find employees who are "just doing their job." Yet when an employee shows passion about what they are doing, it's infectious. Everything is affected–the work and the people involved are immediately engaged. And this is essential in building your fanocracy. Authentic advocacy from inside your organization will inspire the enthusiasm, enjoyment, and passion that results in a fanocracy.
What is the difference between a fan and a customer?
David: The relationship we build with our customers is more important than the products and services we sell them.
In our new digital world, we're missing the power of genuine human connection, the single most important ingredient for creating a fanocracy. An understanding of how and why people become passionate about a company, or product, or idea, or artist serves as a way to do business.
This is an easy yet powerful mindset-shift that any organization can make. Building a relationship with customers cultivates fandom, while simply selling products to customers means it is easier for somebody to instantly move on to another brand that's cheaper, more convenient, or knows how to problem solve.
Some people might assume their business or profession isn't conducive to building fans. They might say: "I'm a _____________! I can't create a fanocracy." Fill in that blank with whatever your business may be. But the fact is that businesses of all kinds can create a fanocracy by building personal relationships with their customers.
In fact, some of the most interesting examples of fanocracy we uncovered are companies that sell a product or service that's clearly a commodity, like batteries, enterprise software, insurance, or underwear.
In our research, we were thrilled to uncover a wide variety of successful organizations that have grown their businesses in remarkable ways be creating a genuine human connection.
*Credits to Michelle Manafy of Inc.com https://www.inc.com/michelle-manafy/how-to-have-fans-not-just-customers.html
To book David Meerman Scott for your next online event, contact Front Row Speakers on +353 1 485 3991 or email welcome@frontrowspeakers.com.