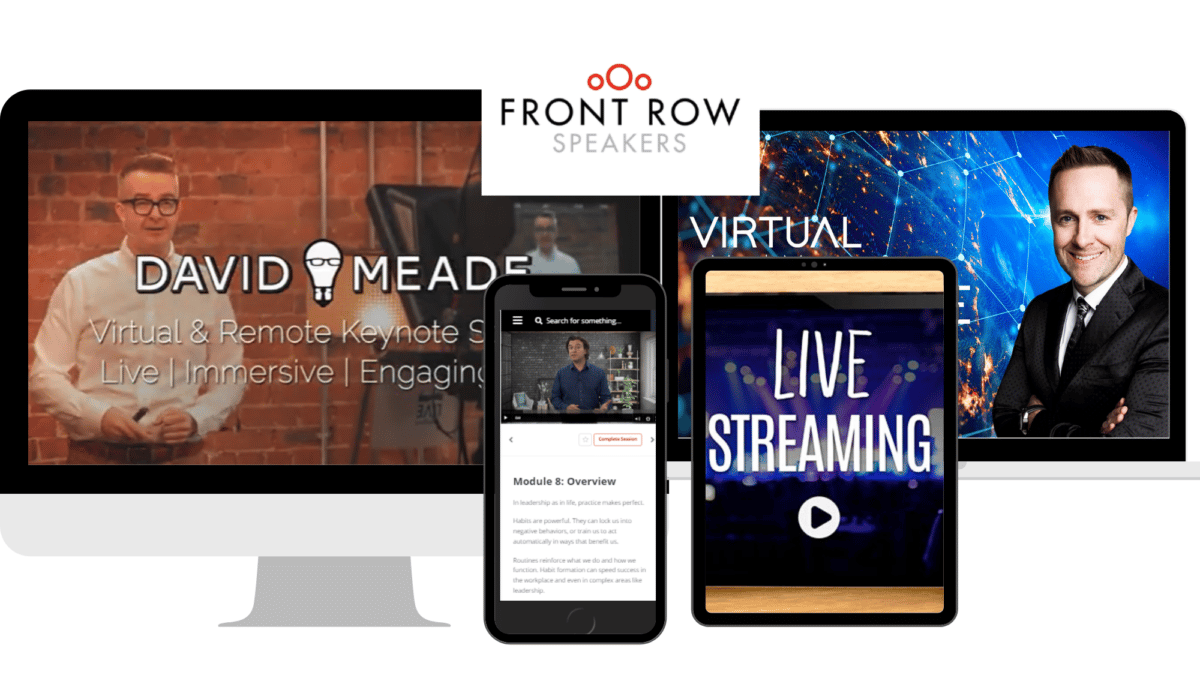 Front Row's Featured Speakers On Mind Magic, Mastering Resilience & Developing A Growth Mindset
Front Row Speakers is here to help our clients and the larger community navigate this challenging time. All of our solutions can be undertaken individually or in groups, or they can be rolled out organisation wide. It's really easy to get set-up and through a collaborative approach, we can co-create the perfect solution with you, based on your specific goals and budget.
Online Events
We source the perfect speaker based on your chosen topic. We set up a virtual event where you and your team can simply click on a link and get access to the speaker. This can be live or pre-recorded, interactive or self-paced.
Inspirational Talks
We have a vast library of exceptional speaker talks from some of the world's most respected voices in leadership, motivation, wellness, sales, communication and more. We work with you to match the perfect speaker to the message you want to achieve. So whether it's an inspirational talk to uplift your team, a wellness masterclass, a high impact sales masterclass, or a deep dive into emotional intelligence – we have the solution for you.
Contact us today [email protected] to co-create the perfect solution to ensure you and your team are staying inspired and motivated during this unprecedented time.
Keith Barry
World's Leading TV Hypnotist, Mentalist and Brain Hacker
Keith is a renowned performer, he has toured for many years showcasing his skills in every corner of the globe.
Featured Topic: Virtual and Interactive Mind Magic keynote which your company can enjoy from anywhere in the world.
Mentalist, Broadcaster, Performance Expert & MC
David has become one of Europe's most dynamic, engaging, and sought after keynote speakers.
Featured Topic – Navigating Change, Mastering Resilience & Growth Mindset, which are all available from the safety and comfort of your home.
Adversity & Motivation Speaker
The manner in which Jack, a former competitive windsurfer, tells his story and goes about his new life has inspired a far-reaching audience.
Featured Topic – Overcoming Adversity, health & wellness balance, motivation all available virtually online. 
See More Speakers On Frontrowspeakers.com
Our sister company Pendulum is offering 40% of the world-class "Pendulum Inspired Leadership Programme." Contact [email protected] for information and group rates. pendulumuniversity.com