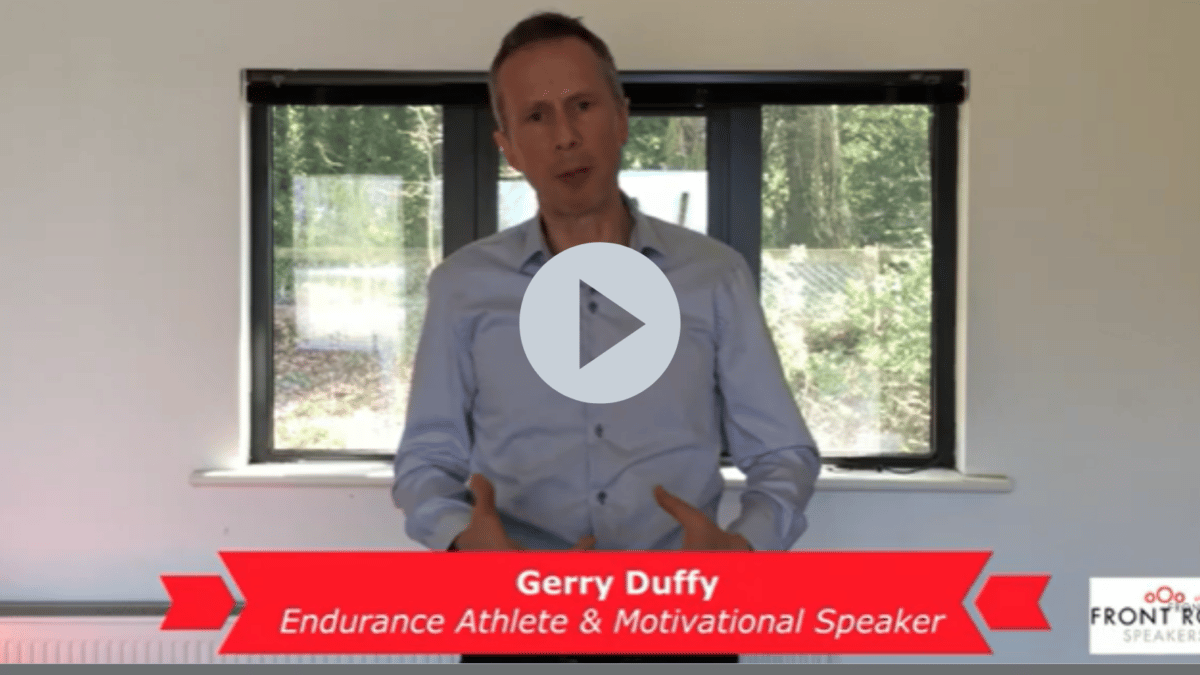 Front Row Speakers Inspire: Gerry Duffy
Gerry Duffy is a professional speaker and writer on motivation and goal setting, he has a sporting CV which has seen him complete some of the hardest endurance challenges on the planet.
In this series, he speaks about three strategies we can adopt to ensure we can come through these unprecedented times with strength.
The Difference Between Worry and Concern. Those who express concern rather than worry will act on a situation objectively rather than fearfully.
You + the best use of your resources. Your body, your mind, your surroundings, your family. Use all of these resources
Focus on what you can control.
Gerry is an accomplished motivational keynote speaker and goal setting coach. Since completing his first sporting challenge "32 Marathons in 32 Days" Gerry Duffy has been speaking at events to address the workforces and clients of companies such as Facebook, Google, Bank of America, Standard Life and Coca Cola. His inspirational story provides a personal insight into how he achieves challenges that people say cannot be done.
Take a look at his profile here or email welcome@frontrowspeakers.com for more info!
Front Row Speakers has the right virtual solution for your next event. All of our solutions can be undertaken individually or in groups, or they can be rolled out organisation wide. It's really easy to get set-up and through a collaborative approach, we can co-create the perfect solution with you, based on your specific goals and budget.
Online Events
We source the perfect speaker based on your chosen topic. We set up a virtual event where you and your team can simply click on a link and get access to the speaker. This can be live or pre-recorded, interactive or self-paced.
Inspirational Talks
We have a vast library of exceptional speaker talks from some of the world's most respected voices in leadership, motivation, wellness, sales, communication and more. We work with you to match the perfect speaker to the message you want to achieve. So whether it's an inspirational talk to uplift your team, a wellness masterclass, a high impact sales masterclass, or a deep dive into emotional intelligence – we have the solution for you.
Contact us today welcome@frontrowspeakers.com to co-create the perfect solution to ensure you and your team are staying inspired and motivated during this unprecedented time.