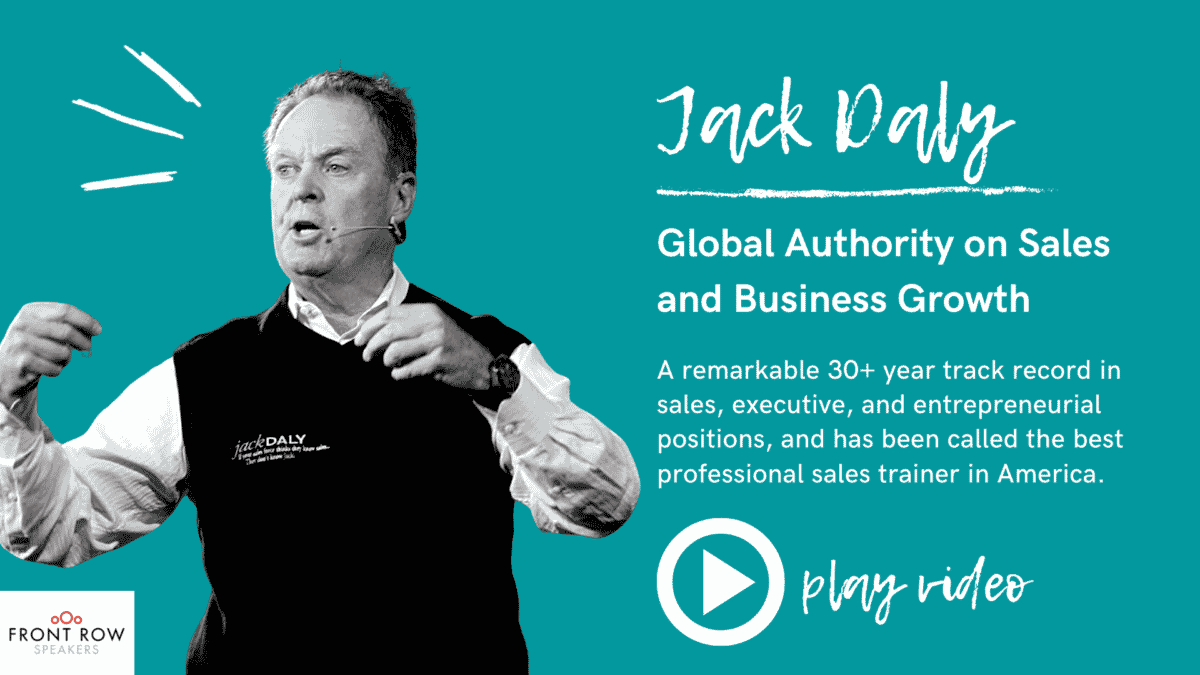 Increase Your Sales With One Of The World's Leading Sales Trainers & Speakers
Jack Daly, a man with a remarkable 30+ year track record in sales, executive, and entrepreneurial positions, has been called the best professional sales trainer in America.
An avid speaker, award-winning author, and 15-time Ironman competitor, Jack strives to make a difference in the lives of those in the field of sales and sales management across the globe. He delivers explosive keynote and general session presentations.
Jack is available for webinars and corporate events in Ireland and abroad. Contact welcome@frontrowspeakers.com for availability and rates.
Jack, who empowered 1000's of business leaders at our partner event Pendulum Summit in 2018, is among the 50+ visionaries who have inspired the Pendulum Inspired Leadership Programme – a world-class online learning experience that focuses on specific themes that are critical to today's business executives and is an efficient and innovative way to train and inspire management teams.
More Featured Speakers
DR HARRY BARRY
Doctor and Best-Selling Author on Mental Health
Harry is an experienced medical doctor who has worked as a senior GP within the Irish Health System for over thirty-five years. He has a long-standing interest in mental health especially the management of anxiety, depression and toxic stress.
DR SINEAD KANE
Guinness World Record Holder, Qulaified Solicitor & Visually-Impaired Athlete
Sinead offers many keynotes that can help your team stay resilient and motivated during this time. She has given virtual keynotes for many companies including Shopify recently and has received fantastic feedback.
JIM KIRWAN
Employee Well Being & Lifestyle Coach
The contents and strategies he uses in his keynotes will challenge you to take a long hard look at yourself. It's packed with tons of great advice and an easy to follow road map for a long and healthy life, regardless of your age, weight or current fitness level.
Front Row Speakers are experts in sourcing the perfect speaker for your event and offer a host of world-class solutions for organisations and management teams.
Here Are Some Examples…
World-Class Online Leadership Training:
Our sister company has developed a world-class online learning experience "Pendulum Inspired Leadership Programme" that focuses on specific themes that are critical to today's business executives and is an efficient and innovative way to train and inspire management teams. Visit pendulumuniversity.com and avail of the 40% off Work From Home special.
Webinars & Online Events:
We source the perfect speaker based on your chosen topic. We set up a virtual event where you and your team can simply click on a link and get access to the speaker. This can be live or pre-recorded, interactive or self-paced.
Online Library Of Motivational & Inspirational Talks:
We have a vast library of exceptional speaker talks from some of the world's most respected voices in leadership, motivation, wellness, sales, communication and more. We work with you to match the perfect speaker to the message you want to achieve. So whether it's an inspirational talk to uplift your team, a wellness masterclass, a high impact sales masterclass, or a deep dive into emotional intelligence – we have the solution for you.
Contact us today welcome@frontrowspeakers.com to co-create the perfect solution to ensure you and your team are staying inspired and motivated during this unprecedented time.