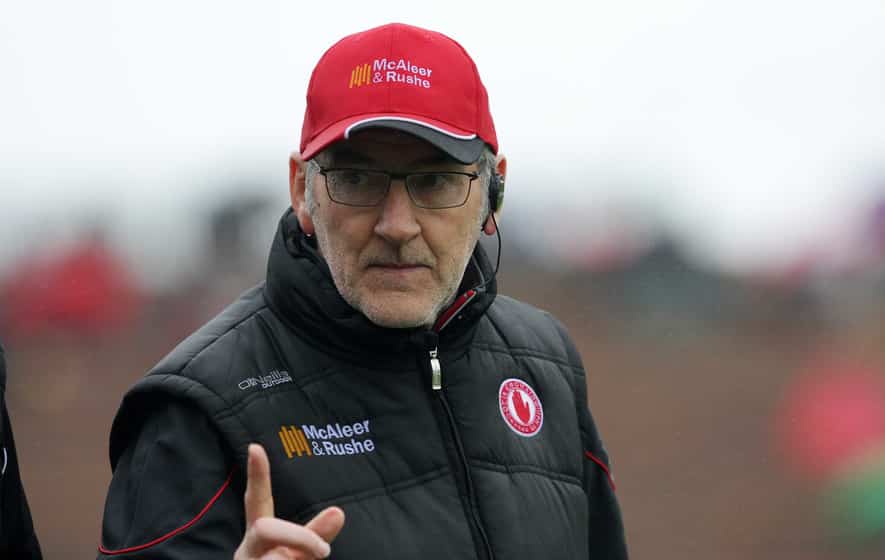 Tyrone and Mickey Harte prepare for Dublin clash
Mickey Harte is one of the shrewdest minds in Gaelic football. His motivation skills and man-management ability, not to mention the depth of his tactical knowledge, has contributed to a coaching career that ranks amongst the game's greats.
Mickey doubles as an exceptional speaker, having delivered motivational lectures on leadership and teamwork throughout the country. He speaks with candour and is always highly popular with clients, as his intimate talks explore his philosophy of life and his role as a manager. Mickey always manages to find a common thread in both business and sport, relating his experiences from the competitive world of elite sport to the business environment.
This Sunday, Mickey's Tyrone will take on Dublin in Croke Park in the 131st All-Ireland Senior Football Championship Final. Tyrone have claimed the crown three times before, in 2003, 2005 and 2008, with each title coming under his leadership. Speaking ahead of Sunday's tough clash, Mickey reflected on his journey so far.
"I have come to learn over the last ten years that this isn't an easy place to get to and that it seemed to come maybe too easy to us in those five years when we had three experiences of that nature. With general opinion you can get caught up in thinking that this can happen very often. But, if we look back through history, we realise that it doesn't happen very often. It is a real blessing to be in this fourth final.
"Certain results hit you very sorely and you are thinking, 'Are we ever going to get back to the top table?' You do ask yourself these questions. But I have serious belief in the quality of the players in our county, the systems that prevail and the support that we have on every level.
"There is something about that, about being patient, trusting what you are about, adjusting what needs to be adjusted to try to come up with something better and something different. So it is an ongoing process. You learn a lot from setback and you learn a lot from hurt. And maybe it is good to feel the hurt of defeat and know that you are slipping a bit. It drives you on to think outside the box and how to get to a better place."
To book Mickey Harte for your event, contact Front Row Speakers on +353 1 485 3991 or email welcome@frontrowspeakers.com.