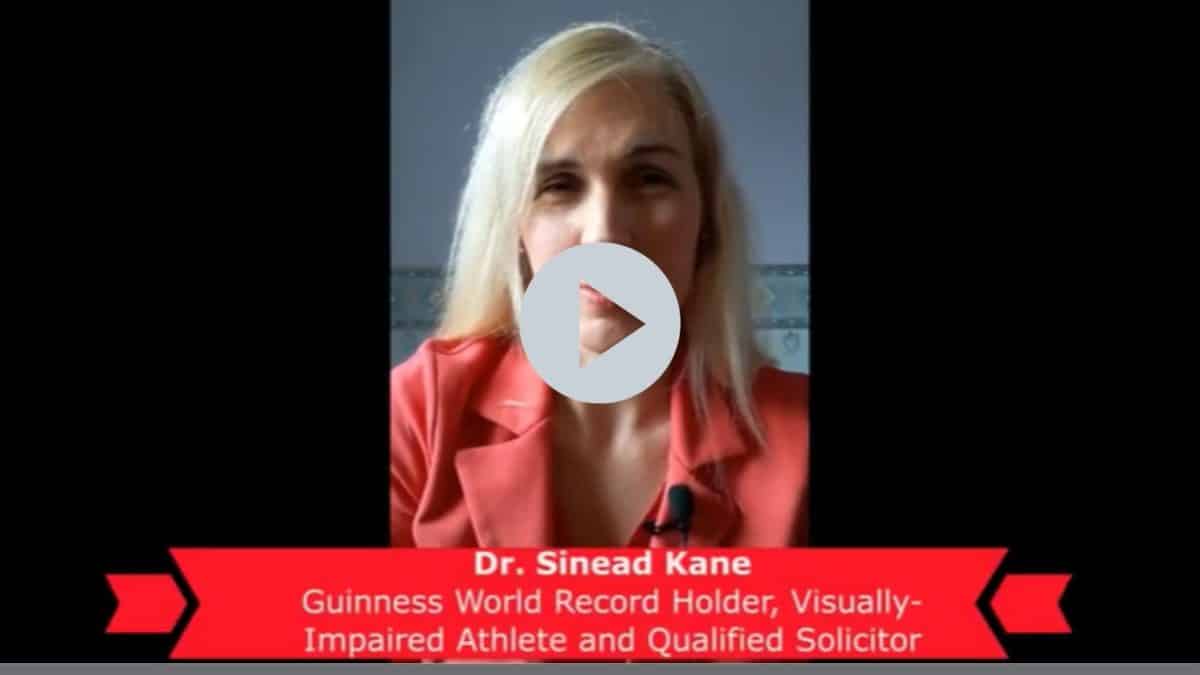 Front Row Speakers Inspire: Sinead Kane
With only five percent vision and is registered as legally blind, the strength and resilience demonstrated by Sinead Kane throughout her life is inspiring. Within the space of three months, Sinead was awarded two PhD doctorates. In October 2017 she received an honorary PhD from the National University of Ireland, and in December 2017 she earned a PhD from Dublin City University. She is also is a double Guinness World Record Holder and the first Irish female to do the world marathon challenge.
"What I have learned from life is that courage has a ripple effect. Every time we choose courage we make those around us feel better and we make the world a bit braver."
In this short video, Sinead has given a little bit of insight as to how she is coping with the everyday challenges that have arisen from the Covid-19 pandemic.
You can view Sinead's profile here or email welcome@frontrowspeakers.com for more info!
Front Row Speakers has the right virtual solution for your next event. All of our solutions can be undertaken individually or in groups, or they can be rolled out organisation wide. It's really easy to get set-up and through a collaborative approach, we can co-create the perfect solution with you, based on your specific goals and budget.
Online Events
We source the perfect speaker based on your chosen topic. We set up a virtual event where you and your team can simply click on a link and get access to the speaker. This can be live or pre-recorded, interactive or self-paced.
Inspirational Talks
We have a vast library of exceptional speaker talks from some of the world's most respected voices in leadership, motivation, wellness, sales, communication and more. We work with you to match the perfect speaker to the message you want to achieve. So whether it's an inspirational talk to uplift your team, a wellness masterclass, a high impact sales masterclass, or a deep dive into emotional intelligence – we have the solution for you.
Contact us today welcome@frontrowspeakers.com to co-create the perfect solution to ensure you and your team are staying inspired and motivated during this unprecedented time.