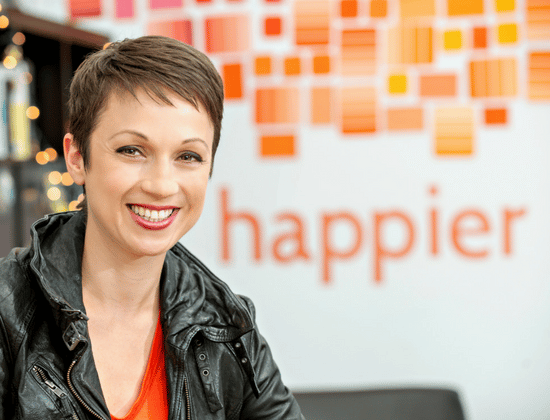 Unlocking the strategies for a workplace that thrives
Happiness isn't a feeling. It's a skill that can be learned and improved through practice, and that in turn boosts creativity, productivity and profits – Nataly Kogan
We are thrilled to showcase Nataly Kogan, CEO and Founder of Happier – an award winning global technology and learning platform – who will be speaking at Pendulum Summit New York on September 13th. Nataly's work has had a profound impact on over 1 million people worldwide. For those interested in improving emotional well-being, increasing resilience through challenges and change, and creating a culture of appreciation and psychological trust within your organisation, this blog is for you!
The high cost of employee unhappiness:
80% of American workers feel stressed at work, costing U.S. businesses over $300 billion in absenteeism, disengagement, and decreased performance.
Only 30% of American employees feel engaged at work and those who aren't engaged are more likely to miss work, negatively influence their co-workers, and drive customers away.
Research shows happier workplaces have:
MORE PRODUCTIVE AND CREATIVE EMPLOYEES
BETTER PROBLEM SOLVERS AND TEAMS
GREATER SUCCESS
A COMPETITIVE EDGE
LESS STRESS AND BETTER HEALTH
The Happier Method:
Backed by research in psychology and sociology, the Happier Method developed by Nataly and her team is made up of the 5 Core Happier Skills that, when practised regularly, have been scientifically proven to improve emotional wellbeing, increase resilience, reduce stress, and help you thrive in every area of your life. These 5 Core Skills are: Acceptance, Gratitude, Kindness, Meaning and Self-Care.
Nataly is speaking at Pendulum Summit New York on September 13th:
Experience Nataly Kogan's cutting-edge strategies and practices first-hand at Pendulum Summit New York on September 13th 2018. Nataly will join other visionaries such as Suzy Welch, Jack Canfield, Deepak Chopra MD, Steve Forbes, Nick Santonastasso and more. If you manage teams or are looking for an inspirational kick-start to a more fulfilled life, this event is for you. Book your place to Pendulum Summit New York here.
Browse our diverse range of inspirational and motivational speakers here.