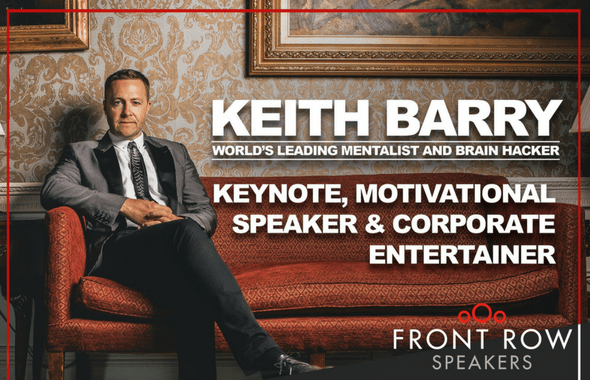 Keith Barry's Mind-Blowing Persuasion & Influence Tools Will Transform Your Corporate Event
We are thrilled to announce that Keith Barry, the world's leading TV Hypnotist, Mentalist and Brain Hacker, has joined the Front Row Speakers roster.
An expert in magic, mentalism, hypnosis, escapology, brain hacking and deception, delegates will get an in-depth look into Keith's mind-blowing skills that turn the ordinary into the extraordinary and showcase the limitless power of the mind. Keith's Brain Magic video remains in the top 20 of most viewed TED Talks receiving 13.5 million views. Keith's TV appearances go viral. He's the mentalist / hypnotist expert / brains behind the wildly successful "NOW YOU SEE ME" movies franchise.
Last January people were blown away by Keith's performance at Pendulum Summit where he shared the stage with titans including Sir Richard Branson, Jo Malone MBE, Paul O'Connell, James Caan CBE, Randi Zuckerberg and Baroness Michelle Mone OBE.
Check out Keith's showreel video.
Book Keith Barry for your upcoming corporate event contact mike@frontrowspeakers.com or call +353 1 485 3991.