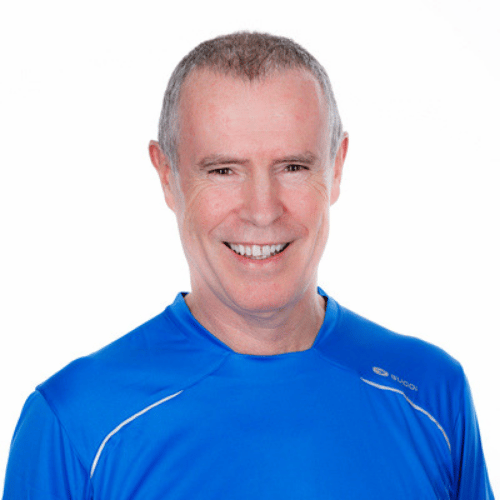 Jim Kirwan
Employee Well Being & Lifestyle Coach
Employee wellbeing expert Jim Kirwan is a passionate and inspirational speaker, author, and lifestyle coach. The contents and strategies in his book "The eXercise Factor" will send readers on a profound journey of self-reflection. Packed with tons of great advice, readers are provided with an easy to follow road map for a long, happy, and healthy life. Additionally Jim uses these strategies to help you and your employees develop the active, healthy, sustainable lifestyle you'll require to succeed.
Jim returned to Ireland from the USA at the end of 2016 and is currently director of his own coaching business "Your New Lifestyle Mission" and Pat Falvey's Forever Young Club. As well as that, Jim is the creator of Get America Moving and spent 10 years as a CEO of a specialty sports business in the Carolinas. Before this employee wellbeing expert Jim Kirwan spent over 25 years working in HR in Ireland. He's a Fellow of The Chartered Institute of Personnel and Development.
Topics
Jim Kirwan is a world class speaker and can discuss anything relating to employee wellbeing and the development of an active, healthy, sustainable lifestyle. His presentations are customised to the needs of each client and their specific audience.
Signature Talk 1: F.I.T.C.E.O. – A Strategic Approach To Employee Wellbeing and Health in a Covid-19 World. [Targets executives and managers]
Signature Talk 2: Strategies for Your Employees to Successfully Develop an Active, Healthy, Sustainable Lifestyle in a Covid-19 World.
Transform Your Life with Success Strategies from the "The eXercise Factor".
"Sitting is the New Smoking", Moving Strategies You Can Action in your Organisation.
How To Overcome the 5 Greatest Obstacles to Exercise!
Key Strategies to EASE into the Best Shape of Your Life, Regardless of Your Age, Weight or Current Fitness Level.
Testimonials
'Jim works with Citywork Corporate Wellbeing events as a Chair and influencer. His knowledge of the wellbeing agenda and everything that entails made him appear to be a good choice, the reality was far better than that! Jim's command of the event brief is excellent, his knowledge of the speakers is superb and he has the ability to engage and bring an audience to life immediately. Jim made a massive contribution to Citywork in Dublin and we immediately agreed to work together on the next one in Edinburgh. I would strongly recommend Jim to prospective clients. – Rob Hollis, Director, Policy 21 Ltd (Citywork Corporate Wellbeing Events)
'Jim gave an excellent talk. I was engaged the whole way through and weeks later, I still think about points that stood out at me. His passion for the topic really showed. It was a really motivating talk full of helpful and interesting points, facts and tips'. Irish Management Institute
"I saw Jim speak as a guest keynote speaker at the first Charleston Healthy Business Challenge and thought his passion for health and fitness would add great value to the annual Blue Cross Blue Shield Leader Workshops. His mission to "Get America Moving" and his keynote talk, "How To Create A Culture Of Health – Real Strategies You Can Use" was such an important part of our workshops in South Carolina. Jim's passionate presentation was inspiring and I would definitely recommend him as a speaker." – Michael E. Harris, Vice President Major Group Sales, BlueCross BlueShield of South Carolina
"Jim Kirwan is a dynamic, engaging speaker who motivates change by weaving real-life examples into his health and fitness message. His "four keys to success" are logical, easy to understand, and are a great tool for anyone looking to improve their health at any age." –Susan Johnson, PhD., Director of Health Promotion, Medical University of South Carolina
"I invited Jim to be our guest keynote speaker at a recent training day for all staff [200] in Spartanburg. He is a passionate speaker and we loved his signature talk "Your New Lifestyle Mission" and his dad's story in particular was very moving! He definitely inspired many of our team to take action and I would certainly recommend Jim as a speaker for similar events". – Jayne Moorman, County Librarian, Spartanburg County Public Libraries, SC