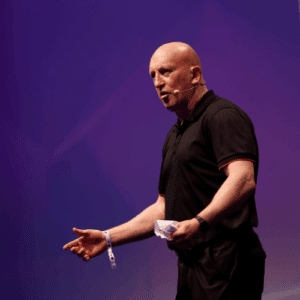 Shaun Edwards
International Peak Performance Expert
Born and raised in Wigan, England, International Sports Peak Performance Expert Shaun Edwards, OBE, is the most decorated player in rugby league history, with 37 winner's medals. Edwards began his career as England's schoolboy captain in both the rugby union and rugby league. He was the first to achieve this feat and, as a result, attracted a wealth of attention from several clubs. Edwards took his first step into rugby stardom when he signed with Wigan in 1983, making his impressive debut as scrum-half only 20 days after. He followed this up as fullback in the final of the 1984 Challenge Cup.
It was in 1985 that Edward's career began to pick up even more momentum. The talented rugby player played in the 1985 Challenge Cup final as fullback and scored a try, subsequently helping the team achieve victory. The same year he became the youngest ever player to play for Great Britain when he played in a match against France. On a Great Britain Lions tour, Edwards took a stand by taping over the British Coal logo on his jersey to show his support for the miners. Edwards' dedication to the game and his team shone through when he was awarded the Man of Steel Award for playing most of the 1990 Challenge Cup final with a broken eye socket and cheekbone.
At the end of the 1991-92 season, Edwards was credited with being the league's top try scorer, leading him to be selected for the 1992 Great British Lions Tour of Australia and New Zealand. He ultimately played in every round of Wigan's consecutive wins of the Challenge Cup, making 452 appearances for the team overall. After leaving the club and having stints at both the London Broncos and Bradford Bulls, Edwards retired in 2000.
Since retirement, Edwards has moved on to become head coach for the rugby union team London Wasps. In 2008, he was appointed defence coach for Wales and also became defence coach for the British and Irish Lions in 2009. Since 2020, Edwards has been the defence coach for the French national rugby team, whose recent successes are directly attributed to the impact of having Shaun as their coach.
Topics
How to develop a winner's mindset
How to effectively lead others
Maximising performance
Overcoming adversity
Building teams
Motivation
To book International Sports Peak Performance Expert  Shaun Edwards for your event, contact Front Row Speakers on +353 1 485 3991 or email welcome@frontrowspeakers.com.