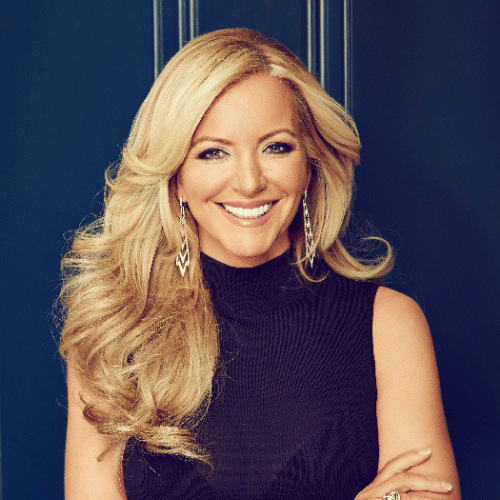 Lady Michelle Mone
"I live my life by one simple rule; work hard, play hard and always give something back."
As one of the United Kingdom's most celebrated Entrepreneurs, Lady Michelle Mone is a shining example of how flair and true grit can lead to global success.
Highly respected for her direct, no-nonsense approach, she has gone from humble bra-designer (as the Founder of Ultimo Lingerie), to global entrepreneur with ventures reaching as wide as interiors, jewellery, property, tech and more. This impressive portfolio has led to Lady Mone being firmly cemented as one of the world's most in-demand public speakers.
Her success was formally recognised when she was awarded the role of Start-Up Business Tsar by former Prime Minister David Cameron in 2015. In the same year, she was appointed a life time peerage as a Baroness in the House of Lords.
Despite growing up in the East End of Glasgow with few resources and leaving school at just 15 with no qualifications, Lady Mone shows that no matter where you come from, you can become anything you want to be. Her journey to the top is truly one-of-a-kind.
Lady Michelle Mone built her multi million-pound lingerie business from the ground up, earning respect and admiration for the success it became and the innovations it led. Her new ventures have since brought in a whole new sector of fans and her profile has fast become one of the most enticing.
Michelle's story from both a personal and professional perspective is a true inspiration to all generations. Overcoming a difficult childhood and a turbulent private life along the way, Michelle has consistently turned hardship into triumph. Her rags to riches tale, combined with her no nonsense, practical and honest business advice has made Michelle one of the most sought-after speakers.
Over the past decade, Lady Mone has spoken at some of the most prestigious events around the globe. As one of the best motivational speakers in the world, Michelle has fast become a choice keynote, expanding on a variety of topics in business and beyond. To date, she has been heard by and inspired more than 1 million people around the globe.
Michelle has the power to motivate, inspire and teach individuals on how they can improve not only their businesses, but their lives.
Key Topics
Business success
Entrepreneurship and start ups
Motivation
Leadership
Female empowerment
Overcoming life hurdles
Stating from the bottom
Diversifying your career
Work/Life balance
Dressing for success
The power of marketing and PR
Testimonials
"The talk given by Lady Michelle Mone at the National Achiever's Conference in Dubai was exceptional. Being both entertaining and inspiring, Lady Mone is undoubtedly a brilliant spokesperson for female entrepreneurs globally. Her unwavering focus, vision, and determination establishes her as a leading example of empowerment of women." – Her Highness Sheikha Shamma bint Sultan bin Khalifa Al Nahyan
"This is the ultimate presentation in creating impact through sharing your personal journey. In an audience with over 1000 highly successful business owners, Michelle shared her experiences and inspired all to achieve much more. If you are looking to progress and develop then this session is an absolute must… Hardwork, dedication, commitment, sacrifice and relentless will power to make it happen. You will be inspired to change! Michelle was truly inspirational, and the feedback from 100's of people that attended have been exceptional. 5 star in all areas. Genuine, funny and motivational… No doubt that Michelle is now a role model to a lot more people! We can not wait to get her back…" – UK Managing Director – Action Coach