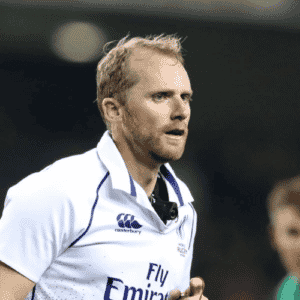 Wayne Barnes
Leading International Sports Official and World Rugby Referee
Leading international sports official Wayne Barnes is a World Rugby referee, criminal barrister, public speaker and sought-after sports media personality. An expert in the boardroom and on the pitch, Barnes has headed numerous high-profile legal cases and blue-chip clients.
Additionally, Barnes has worked as a criminal barrister since 2003 and the World Rugby Referee balanced law alongside rugby commitments. Barnes is the founding Director at Fulcrum Chambers, London. Heading up the sports law section, he advises National Governing Bodies, sports institutions, sponsors and rights holders on varying aspects of sports law, governance, ethics and safeguarding. Barnes specialises in compliance, bribery, corruption, and serious fraud investigation.
Leading international sports official The World Rugby Referee has conducted complex internal company investigations. Barnes delivers training in avoiding regulator intervention and works in mediation and arbitration.
Barnes makes regular media appearances as a rugby pundit and commentator on the UK's main broadcast channels. Furthermore, with his knowledge and expertise, Barnes is uniquely suited to explain the technicalities of law and global game nuances.
Topics
Leadership
Competition and Collaboration.
Cultivating Resilience in the Face of Adversity.
Establishing a culture of learning.
To book Leading International Sports Official and World Rugby Referee Wayne Barnes for your event, contact Front Row Speakers on +353 1 485 3991 or email welcome@frontrowspeakers.com.