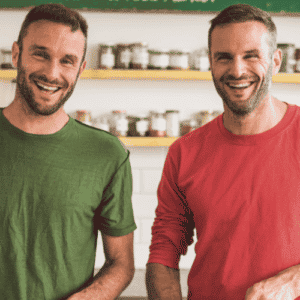 Stephen and David Flynn – The Happy Pear
Entrepreneurs & Founders of The Happy Pear
Founders of The Happy Pear twin pairing Stephen and David Flynn from coastal town fo Greystones Co.Wicklow are a sibling duo taking Ireland by storm. From humble beginnings in 2004 opening a self professed 'humble veg shop' with a mission to get people eating more vegetables. What started as a produce shop in Wicklow has grown into a business with best selling cookbooks, award winning podcast, cookery courses and food line running in supermarkets nationally.
David and Stephen are chefs firstly and there passion for food and getting a community eating better  helped their business grow exponentially. Over the past ten years they have created four worldwide best selling cook books their focus is and has always been making eating healthy easier. They love what they do and use their natural food store, whole-food cafes and restaurant, superfood sprout farm, online shop, and health education talks and courses to inspire a healthier, happier world!
After both studying business degrees at University College Dublin, they travelled the world, tasting as many local dishes and unusual ingredients along the way. When they returned, over a decade ago, their aim was to start a food revolution by making fruit and veg sexy, to get involved with their community and take as many people along for the ride as they could.They've also created a strong online community and a loyal following across their social media channels . Each week they release videos on YouTube and they're also part of Jamie Oliver's Food Tube family – the largest foodie community in Europe! The Happy Pear also won the Best Digital Marketing award at the 2015 Irish Restaurant Awards.
The health and wellbeing talks and Happy Heart course, have become a huge success. During their Happy Heart talks on how to eat well, the twins share their passion for healthy wholesome food and their journey to a happier, healthier lifestyle. They talk about the benefits and nutritional value to eating more vegetables and wholefoods, and give a better understanding of how eating healthier food will give you more energy and have you feeling good. They live in Greystones and walk their talk by eating healthily, practicing yoga, swimming in the sea, keeping bees and smiling every day.
Topics
Health & Wellbeing

Mental Health

Resilience 

Cooking demos & virtual cookalongs (great for team building)
Testimonials
Working with The Happy Pear was an amazing experience from beginning to end. The feedback from our team about the keynote itself has been spectacular. Dave and Steve brought authenticity, energy, and a well of wellbeing knowledge, sprinkled with humour, we couldn't have asked for more! 
– Alexandra Gschwind, Google Customer Solutions
To book Entrepreneurs & Founders of The Happy Pear Stephen and David Flynn for your event, contact Front Row Speakers on +353 1 485 3991 or email welcome@frontrowspeakers.com.