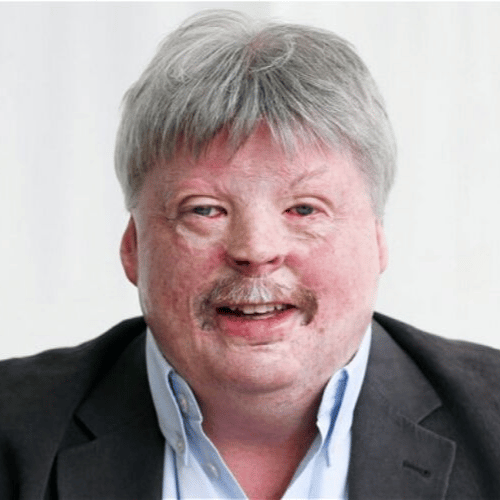 Simon Weston
In 1982, the Sir Galahad was destroyed in Bluff Cove on the Falkland Islands. On board was Simon Weston, Welsh Guardsman, a name and face that was going to become well known for his struggle to overcome his injuries and redefine his role in life. Surviving Falklands Veteran Simon's message is one of achievement, of triumph over adversity, of seizing the moment and succeeding.
Today Simon Weston takes the opportunities to convey his story in order to motivate and encourage those, who like him, want to move on to the next goal, whatever it may be. The only obstacles to achieving one's targets and successes are those you create for yourself. His words never fail to inspire you.
Motivational Speaker  Simon's humour, enthusiasm and engaging personality make him a number one choice speaker for many companies. As well as being in demand as a keynote and motivational keynote speaker, Simon is also an exceptional after-dinner speaker. He has spoken for small Rotary Clubs through to large companies across the UK and Europe.
Topics
Simon's presentation topics include:
1. Overcoming Adversity
2. Accepting Change
3. Dealing with Challenges
4. Liking the Person you are
5. Diversity
6. Bravery
7. Dignity
8. Inspiring others
Testimonials
"The guest speaker was Simon Weston, the Falklands War veteran, who gave a truly inspirational speech on overcoming adversity, determination and the benefits of self-belief." Leeds City College, October 2012
"Simon was brilliant! What an inspirational and lovely person. I could have listened to him for hours . He made a huge impact on me and many others." Vodafone, March 2012
"Everything went perfect with Simon last night – we thought he was absolutely fantastic." Dorset Scope, April 2011
"…..Simon had people in tears and was a huge success." NHS, April 2010
To book Falklands Veteran  Simon Weston for your event, contact Front Row Speakers on +353 1 485 3991 or email welcome@frontrowspeakers.com