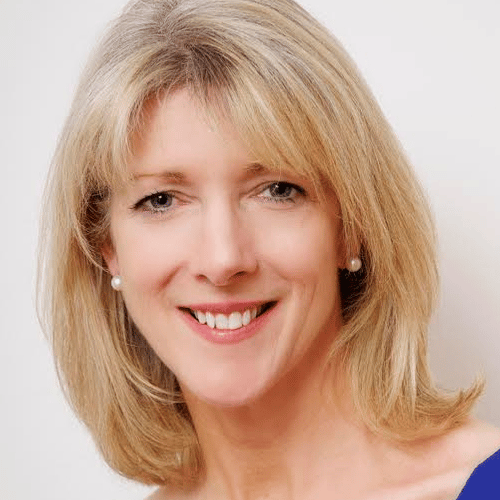 Sheila O'Malley
Wellness Expert & Keynote Speaker
Wellness expert and keynote speaker Sheila O Malley is one of Ireland's leading public speakers in the area of wellbeing at work and home. Sheila has worked with most of Ireland's top companies delivering seminars on Workplace, personal and family wellbeing. Shelia's speciality is her unique delivery. Combing a professional approach with a facilitative style that is warm and engaging, Shelia is always well received. Additionally, Shelia is a former correspondent for Independent Newspapers and is a regular on TV and Radio.
Wellness expert Sheila O Malley is a dynamic engaging professional trainer in the area of workplace wellbeing. Shelia also offers courses/seminars on managing stress, building resilience and personal wellbeing to some of Ireland's top companies. Through her unique offering wellness expert Sheila explores in detail employee well-being, people development seminars, and women in business. In addition to this, through her seminars and courses Shelia facilitates team offsite days, conferences, and video training for organisations
Topics
Resilience & Mental Fitness
Digital Wellbeing
Mental Health Awareness
Emotional Intelligence/Emotional Wellness
Talks & Workshops to Support Working Parents
Resilience: Finding balance for the Working Parents.
Testimonials
'"The feedback was incredibly positive from people on site, – I recorded the sessions, meaning those who could not attend could watch it back – the instant messages and emails I received in the days and weeks after was great. One of the standout comments was the format of the event – it was mentioned to me more than once that the discussion-based format it took versus typical presentations and slides worked really well, highlight the power of stories and personal experiences. I personally felt it brought people closer together who were present, realising their shared thoughts/feelings. It was a refreshing and honest discussion – one that was needed during this busy time in our workplace and the situations we find ourselves in working from home" – MSD
"Sheila spoke at one of our Corporate Events last month. Her talk was thought-provoking
and inspiring. She has a lovely way of sharing personal experiences with attendees which
helps bring the audience along with her. Everyone I spoke to afterwards had at least 1 take-
away that they were going to focus on'"- PWC
"I think we each walked away with something different from the workshop, it was very valuable. Sheila is very well-informed, and great to work with, and it was a great session.' – Google
'Sheila's session on wellness was one of the highlights of the day. She is a great speaker and clearly passionate about the topic with a lot of stories to bring her presentation to life' – Sales Force 
"Sheila gave practical, actionable steps. We had great feedback from participants following the session. Thanks for a great session."- Arthur Cox
'The session was really interactive, with lots of useful tips and the feedback from employees was excellent" – J.P Morgan
'They have gained hugely from Sheila's sessions. From communication styles, to setting boundaries to managing workload to personal relationships Sheila has taken the group to a new level of understanding about themselves, we always have a full house!' – Colgate
"Sheila gave a talk on Building Resilience as part of a Well Being day. The feedback from the employees was extremely positive, a number remarked they could have listened to her all day!" – DIAGEO
"Many thanks Sheila O'Malley for facilitating a valuable and impactful Boundary Management
workshop for our Microsoft International Operations team recently. Feedback on the event has
been extremely positive with folks commenting on how empowering it was to listen and learn
from each other (including from yourself) on the challenges and approaches to retain a healthy
balance. Thank you for sharing your own background and related personal experiences and for
the rich reflections and advice you offered in this important space (Miriam Keating)" – Microsoft Ireland
"Sheila has delivered multiple sessions to the operation teams at Microsoft over the past year.
Focused on sharing her empathy and tips for setting boundaries and self-care, these interactive sessions have been very well received and appreciated. I was very impressed with Sheila's ability to instantly connect and build a safe environment for attendees to share their own stories; reflecting on their past and helping them see the
opportunities in front of them. I would highly recommend Sheila to any company looking to improve mental health or just drive a culture of care – especially during these times. Well done, Sheila! (Jen Stafford)" – Microsoft USA