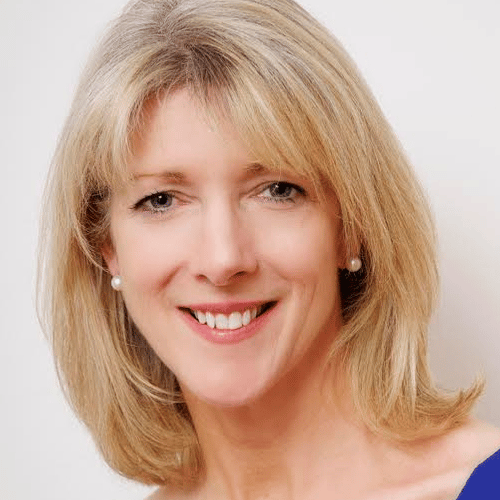 Sheila O'Malley
Wellbeing & Resilience Speaker
Sheila O'Malley is one of Ireland's leading Professional Trainers/Public Speakers in the area of Wellbeing and Mental Health whether Personal, Workplace or Family.  Sheila has worked for many years with Ireland's leading Healthcare providers and their clients delivering Workplace Wellbeing talks. In addition, Sheila works directly with most of Ireland's top companies (Apple, Google, JP Morgan, Microsoft, PWC, Arthur Cox, Pfizer etc) where she speaks on Resilience, Mental Fitness and Emotional Intelligence as well as Personal & Family Wellbeing. 
Sheila combines a professional approach with a facilitative style that is warm and engaging. With her personable approach, she delivers material in a relaxed and enjoyable manner that is always well received. Sheila is a regular contributor to National press & Media.
Sheila is an excellent communicator and a very popular speaker due to her interactive and inspiring talks on a variety of topics whether on Personal or Workplace Wellbeing or Family Wellness.
Sheila has a wide offering from: Employee Wellbeing Talks Bespoke Talks i.e. (People Development Seminars, Women in Business etc)
Team Offsite Days  Conferences Video training for organisations
Topics
Resilience & Mental Fitness
Digital Wellbeing
Mental Health Awareness
Emotional Intelligence/Emotional Wellness
Talks & Workshops to Support Working Parents
Resilience: Finding balance for the Working Parents.
Testimonials
' The feedback was incredibly positive from people on site, – I recorded the sessions, meaning those who could not attend could watch it back – the instant messages and emails I received in the days and weeks after was great. One of the standout comments was the format of the event – it was mentioned to me more than once that the discussion-based format it took versus typical presentations and slides worked really well, highlight the power of stories and personal experiences. I personally felt it brought people closer together who were present, realising their shared thoughts/feelings. It was a refreshing and honest discussion – one that was needed during this busy time in our workplace and the situations we find ourselves in working from home' – MSD
'Sheila spoke at one of our Corporate Events last month. Her talk was thought-provoking
and inspiring. She has a lovely way of sharing personal experiences with attendees which
helps bring the audience along with her. Everyone I spoke to afterwards had at least 1 take-
away that they were going to focus on' – PWC
'I think we each walked away with something different from the workshop, it was very valuable. Sheila is very well-informed, and great to work with, and it was a great session.' – Google
'Sheila's session on wellness was one of the highlights of the day. She is a great speaker and clearly passionate about the topic with a lot of stories to bring her presentation to life' – Sales Force 
'Sheila gave practical, actionable steps. We had great feedback from participants following the session. Thanks for a great session.' – Arthur Cox
'The session was really interactive, with lots of useful tips and the feedback from employees was excellent' – J.P Morgan
'They have gained hugely from Sheila's sessions. From communication styles, to setting boundaries to managing workload to personal relationships Sheila has taken the group to a new level of understanding about themselves, we always have a full house!' – Colgate
'Sheila gave a talk on Building Resilience as part of a Well Being day. The feedback from the employees was extremely positive, a number remarked they could have listened to her all day!' – DIAGEO
To book Sheila for your event, contact Front Row Speakers on +353 1 485 3991 or email 

[email protected]