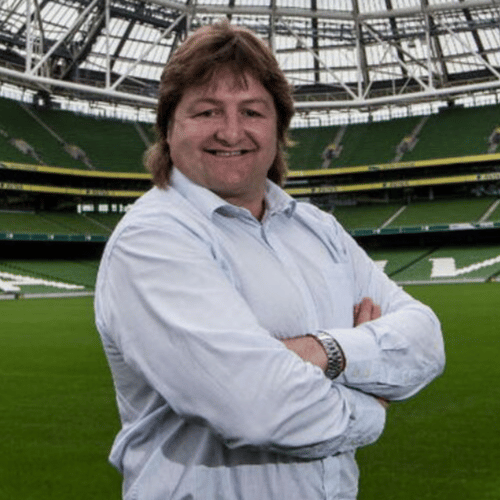 Shane Byrne
Former Rugby International & Speaker
Shane Byrne, is a former Irish rugby union hooker. He is nicknamed 'Munch' or 'Mullet' (a reference to his hair style).
Originally from County Wicklow, he was brought up having a traditional Irish upbringing and thus played Gaelic football up to under-16 level with the local Aughrim club. He attended Blackrock College in Dublin and started playing rugby at the age of 13 when he went as a boarder to the college, the alma mater for many great rugby players. Although he played rugby at college through his teenage years he never did well in it or had a real interest in it until he was about 17 years old.
As a result Shane joined Blackrock Senior Rugby Club when he was 21 and has since played 18 seasons with them. He also went on to play 14 seasons with Leinster. Although he got into the Irish Squad in 1993 it was a long wait with many ups and downs before he got his first cap for Ireland against Romania in Romania.
That same year in 2001, Shane got married to Caroline, a native of Monaghan, whom he was introduced to by a friend at a disco in Dundalk. Shane plied his trade for Leinster for many years and in 2005 he was selected for the British and Irish Lions Tour to New Zealand. After the Tour his contract talks with Leinster were inconclusive, so he joined Saracens FC and headed off to England, wife and family in tow for two years.
There have been many highlights in Shane Byrne's rugby career including winning the Triple Crown in 2004, scoring two tries in a match against Wales, and the New Zealand Lions Tour in 2005, but he feels that getting his first cap will always be a defining moment for him.
Shane is also involved in fundraising for umpteen different charities like Temple Street and our Lady's Hospice and is Ambassador for 'Fighting Blindness' and patron of GOAL, the International Humanitarian agency. More recently he has put his name to the Wicklow Hospice Charity and is a big supported of the 'Pink Ladies' a local girls youth club who are trying to promote a spirit of keep it local, shop local in the county. Shane participated in the RTE programme 'Charity you're a Star' in the Helix, Dublin to raise money for his chosen charity, GOAL.
Topics
1. Leadership
2. Motivation
3. Teamwork
Awards
Winning the Triple Crown 2004.First player to reach 100 caps for Leinster. New Zealand Lions tour in 2005.Celtic League Champions 2000.
To book Shane Byrne for your event, contact Front Row Speakers on +353 1 485 3991 or email

[email protected]