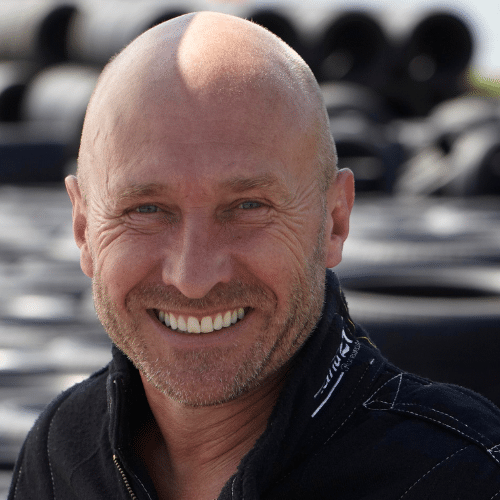 Perry McCarthy
Ex-Formula One Driver, 'The Stig' from BBC Top Gear, Motivational and Business Speaker
Perry McCarthy's incredible story is legendary. He is a championship winning racing driver, best-selling author and was 'The Stig' from the BBC Top Gear motoring show. With over 1500 corporate appearances to date, Perry is in high demand to deliver inspirational and motivational speeches linking his unique experience and attitude to the world of business and its requirements.
From working on North Sea oil rigs to becoming a Grand Prix driver, he constantly overcame huge hurdles, including serious injury, to pursue his dream. In fact, according to F1 supremo Bernie
Ecclestone, with no financial backing, 'the odds of Perry actually reaching F1 were about a million to one'.
McCarthy's bubbly character coupled with his determination, resilience, and absolute refusal to concede defeat has made him a highly popular personality within the sport and as a keynote speaker.
The Telegraph headlined him as 'a new cult hero' and F1 World Champion Damon Hill said; 'I have constant admiration on how he turns a no hope situation into some sort of triumph'. Perry McCarthy entertains and engages audiences by speaking with humor and passion, about the fiercely competitive demands of international motor racing and what it takes as an individual and as
a team to survive and progress in it.
Topics
Performance, Hard Work, Determination
Resilience
Recognising and Creating Opportunities
Creating a Brand
Formula 1 Teamwork, Pursuit of Excellence and Marginal Gains
Drive to Survive
Testimonials
While it's all still hot off the press I wanted to thank Perry for his tremendous contribution to our Awards Evening. His willingness to support with whatever we needed, his openness
to being available to everyone around him and, of course, his delight in delivering a guest speaker session that engaged and over-ran due to questions, was every penny what we hoped his involvement would achieve.
Briggs Equipment (2023 Awards evening, Liverpool)
Absolutely fantastic motivational speech from Perry McCarthy aka 'The Stig' at the Keyloop GTM Conference in Malta. Great story told by Perry and extremely inspiring. Thank you, Perry!
Keyloop (2023 Sales kick-off, Malta)
Thanks for your flexibility last week, the team really enjoyed having you there. Dinner and the event were great and I will not forget meeting the original STIG!
Bayer (2023 Global brand meeting, Holland)
I have constant admiration on how he turns a no hope situation into some sort of triumph.
Damon Hill OBE. 1996 Formula One World Champion
Perry McCarthy is a fantastic guest speaker and we were privileged to have him at our sales award event in January. Keep up the great work.
Leigh Edgley, Sales and Marketing Director Briggs
Thank you so much for providing great entertainment and banter last week. We have had so many positive comments and feedback – the guys loved you!
Jill Moir. Head of Corporate Affairs & Communications, Talisman Sinopec Energy
Perry is extremely bright and witty. He has two traits I admire: the ability to simplify complicated explanations; and the ability to make people laugh.
Richard Farleigh. Investor and ex TV Dragons' Den (UK version of Shark Tank)
To book Ex-Formula One Driver, 'The Stig from BBC Top Gear, Motivational and Business Speaker Perry McCarthy for your event, contact Front Row Speakers on +353 1 485 3991 or email welcome@frontrowspeakers.com.