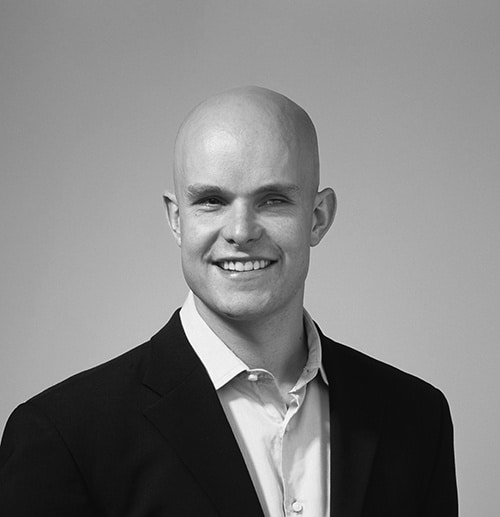 Mark Pollock
Explorer, Innovator & Collaboration Catalyst
Mark Pollock helps people achieve more than they thought possible. It is tough to deliver world class performance. Your people won't do it by chance. With a high-impact catalyst you can help them act with the courage to make it happen. Mark Pollock is that catalyst.
Unbroken by blindness in 1998, Mark went on to compete in ultra endurance races across deserts, mountains, and the polar ice caps including being the first blind person to race to the South Pole. He also won silver and bronze medals for rowing at the Commonwealth Games.
In 2010 Mark was left paralysed after falling from a second story window. He is now exploring the frontiers of spinal cord injury recovery combining an innovative electrical stimulator over his spinal cord and a drug super-charging his nervous system whilst walking hundreds of thousands of steps as the world's leading test pilot of Ekso Bionics robotic legs. Through the Mark Pollock Trust he is on a mission to find and connect people around the world to fast-track a cure for paralysis.
Described in the Daily Telegraph as "a story of courage, determination and hope" Mark has used his hard-earned expertise to help people achieve more than they thought possible in over 250 organisations worldwide as well as Davos, Wired and TEDx. Acknowledged as an expert in smashing expectations, Red Bull UK's Managing Director describes him as "awe-inspiring".
Head of SMB Sales says he "started a conversation about challenging conventional wisdom that is ongoing at Google".
Selected by the World Economic Forum as a Young Global Leader, Mark is on the Board of the Christopher and Dana Reeve Foundation (USA) and is a Wings for Life Ambassador (UK). He is the subject of two acclaimed documentaries – Unbreakable, and Blind Man Walking – and is co-Founder of the global running series called Run in the Dark.
In addition, Mark has been awarded honorary doctorates by The Royal College of Surgeons in Ireland and also from Queens University Belfast. And, he holds a diploma in Global Leadership and Public Policy for the 21st Century from Harvard University, degrees from Trinity College Dublin and The Smurfit Business School.
Topics
Topics covered include:
– Motivation – Resilience and attitude under pressure.
– Leadership – Performance and leading through a crisis.
– Teamwork – Collaboration across disciplines and geographies.
– Innovation – At the intersection where humans and technology collide.
Testimonials
"Mark's talk still resonates with our European Sales Team. He started a conversation about challenging conventional wisdom that is ongoing at Google. And with over 20 nationalities in the room he reached them all." – Google
"Mark spoke at our sales conference. The impact was instant and the messages continue to affect our people. His delivery was awe-inspiring and truly humbling, which forced us all to take a step back and consider how we face challenges and make decisions. Empowering our teams to take action and avoid excuses is key to our success as a business and Mark's story demonstrates how to do that." – Redbull
"Mark presented at our North American Leadership Conference in Chicago. It was attended by 200 of HSBC's senior managers across Canada and the USA. Given the complexity of today's financial services industry, Mark's insight into the motivational challenges facing our management teams was accurate and his suggestions and ideas were equally relevant." – HSBC
"Mark provided a powerful perspective to the assembled media at Davos. Mark doesn't just talk about the transformative intersection of technology and humankind – he lives it. As he explores a cure for paralysis, he helped people understand the human dimension of the fourth industrial revolution at the World Economic Forum's annual meeting." – Head of Public Engagement & Foundations, World Economic Forum
"Mark was a speaker at National Geographic's Extreme Explorers dinner in Davos in January 2016. His personal story and insights were incredibly powerful, and clearly had a profound impact on everyone in the room. He embodies the spirit, resilience and determination that are the hallmarks of what it means to be an explorer." – Editor in Chief, National Geographic Magazine
"Mark brought a hugely authentic and moving story to our conference. He challenged us all to think about the mind-sets we bring to work and life, and to change those for the better." – Global HR Manager Crude & SEE, Shell UK.
"Mark's presentation and participation was a key component to the success of our biggest Channel Partner conference to date. His incredible story linked perfectly with the conference theme and was a huge inspiration for our participants. Mark's insights 'Made it easy' to set our partners up for success. I would not hesitate for a moment to recommend Mark to any conference organiser." – Group Manager Western Europe, EOC Ops Microsoft.
"In the weeks following Mark's talk I have seen managers' at LinkedIn reference Mark's approach to solving complex problems. His talk was inspirational and can be applied in our daily business lives." – Director, Northern Europe & Growth Markets, LinkedIn. 
"Wow – on behalf of the entire Microsoft CDS team, my sincerest thank you for joining us at our START event in Seattle on our special Culture Day. Your story is inspirational and motivational, and you brought everyone in the room to their feet. The response our global team had to your message was incredible, and we can all only hope to be as positive, persistent and proactive as you are with every challenge we may face." – Jude Buckley, Corporate Vice President, Consumer Channels Group (CCG) – Microsoft Corp