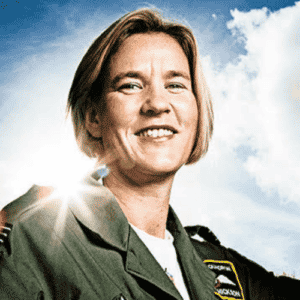 Mandy Hickson
Former RAF Pilot, Entrepreneur, and Expert on Human Behaviour
A former Royal Air Force pilot, Mandy Hickson has profound insight into how to make decisions under pressure, know when to take risks, and the importance of sentient human intelligence in advanced systems. Her keynotes are both personal and professional, allowing her to operate as a particularly effective speaker.
The only female pilot on her Front Line Tornado Squadron, Mandy has operated in extremely hostile environments, including the notorious "No Fly" zone during the Iraq War. Her route to the skies was challenging; she received a RAF flying scholarship at 17, winning acrobatics competitions as a student. However, she failed her mandatory computer based tests, but with reference to her excellent skillset and dogged persistence, she convinced the RAF to accept her as a test case.
Mandy has overcome great hurdles in her career, leading her to co-found Inspiring Women for Work, an organisation that helps women rebuild their confidence when returning to work following a career break. In her keynotes, she draws upon her experiences working in a team of elite fighter-jet pilots; above all else, the importance of maintaining presence and serenity under pressure.
A trained Human Factors facilitator, Many is also an expert on human interactions. She deeply understands the great detail the role human beings play in complex systems. She applies this expertise, combined with her personal experience calculating risk and making important decisions under pressure, to business, demonstrating a strong understanding of humans and organisations alike.
Topics
Overcoming Adversity
Peak Performance in Business
Teamwork
Leadership Under Pressure
Decision Making
Safety and Risk Culture
Error Management
Buy Mandy's new book here!