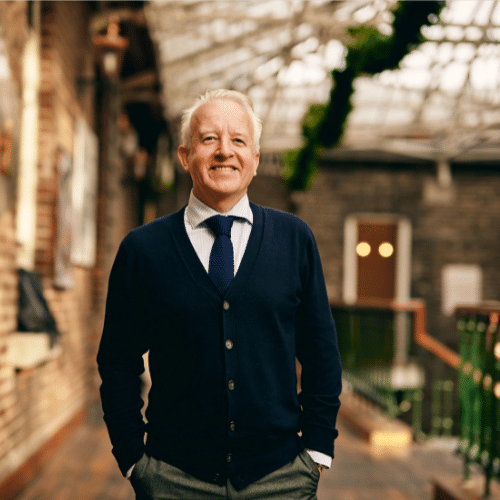 John Ryan
Speaker, Author, Entrepreneur, Founder and CEO of Healthy Place To Work
A speaker, author, entrepreneur, founder and CEO of Healthy Place To Work. He has spent most of his working life consulting with multinational organisations in the areas of Trust, Health, Wellbeing and Organisational Transformation leading the Great Place To Work Institute in Ireland for 10 years.
Formerly a broadcast journalist and expert trainer, John is a regular media contributor and international speaker on topics including organisational health, resilience, and sustainability.
Make Work Healthy is the title of his recent book which he co-authored with Dr. Michael Burchell, and which was published by Wiley in March in the United States and Europe, with Spanish and Portuguese translations coming in 2024.
Topics:
Make Work Healthy
In this speech the audience will learn how to make work healthy for the employee and the organization. John discusses the vital role a leader plays in creating it. They will understand the component parts of a Healthy Workplace, including the physical, mental, social, & emotional elements and the importance of organizational alignment. John shares data, research and benchmarks, he discusses remote and hybrid working, he explores energy management, risk and resilience. He will also inspire with stories from organisations who have created world class practices to make work sustainably healthy and who have achieved success and high performance by a consistent focus on workforce and workplace health.
In your Element 
Thermodynamics, Energy and Getting Work Done – Achieving Maximum Performance. In this speech we present an organisation and a workplace as a dynamic system of energy where work is completed.
Resilience
Why we are looking at resilience the wrong way! How to build real resilience and sustainability into your business. In this speech we will compare the classic view of resilience with a more contemporary understanding. Moving away from the view that resilience is getting back up constantly and fighting the challenges that life throws at you like a super-human hero in your own life story.
A Healthy Place
Coffee, Love, Intelligence & Health, why you'll never look at them the same way again! This speech is wonderful for an organisaion who is starting out on the journey to creating a Healthy Place to Work. It is delivered in a fun, entertaining and relaxed manner to engage all.
Testimonials
"When choosing an inspiration speaker, it's always a challenge to get the blend just right between being motivational and fun and yet insightful and thought-provoking. We've been lucky enough to get it all when John Ryan has addressed our leaders, and I can truly say he always makes a really positive impression way beyond our expectations. He grabs the audience's attention in a way few can, and his words and insights linger long after the event has finished". – SSE
"John Ryan presented many times to our team both in the office and off site. We always enjoyed his presentations which were both informative and motivational. Everyone was engaged, invested in the session and buzzing with ideas afterword's. A real lightening rod for action. Would highly recommend". – Bayer 
"The presentation on workplace culture, trust and how to motivate and retain staff was really engaging and pin-point accurate on the common mistakes businesses make no matter what size they are. They also shared some quick-wins and our conference delegates left with a lot to think about on how important culture is to business success". – SCSI
To book Speaker, Author, Entrepreneur, Founder and CEO of Healthy Place To Work John Ryan for your event, contact Front Row Speakers on +353 1 485 3991 or email welcome@frontrowspeakers.com