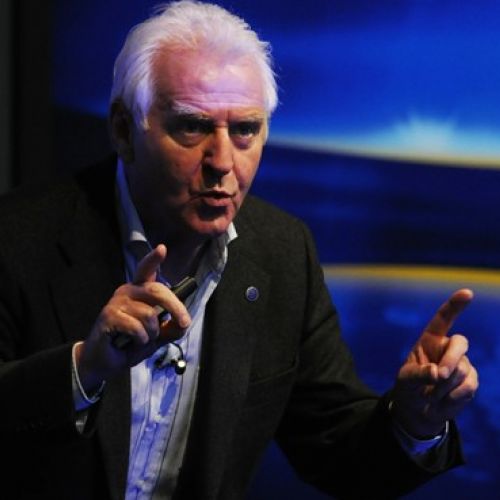 Frank Dick
Motivation & Performance Excellence Speaker
Renowned as one of the UK's best motivation & high performance speakers, Frank Dick OBE is President of the European Athletics Coaches Association, Member of the IAAF Coaches Commission and Chair (and architect) of the IAAF Academy. From 1979 to 1994 he was the British Athletics Federation's Director of Coaching.While in this role he was widely acknowledged as one of the outstanding sports coaches in the world.
In this position Motivation & Performance Speaker Frank led the British Athletics team into its "golden era" with Olympic gold medallists such as Daley Thompson, Steve Ovett and Sebastian Coe. Under his leadership, Britain enjoyed a period of unprecedented international success. In his recent book 'Running my Life' Lord Coe said of Frank: "He brought a professionalism to the management of the team that we had never had before or have had since." Frank personally trained Daley Thompson and created training programmes for individuals such as Gerhard Berger, Katarina Witt, Boris Becker and Justin Rose.
Frank's contribution to sport and coaching has been recognised in being awarded an OBE in 1989, induction to the UK Coaches Hall of Fame in 1999 and the prestigious title "UK Sporting Hero" by Sport UK in 2001.
Author of three major publications, 'Sports Training Principles', 'Winning' and 'Winning Lines', all classics in their fields, the Motivation & Performance Excellence Speakers latest book 'Winning Matters' was published in 2010.
In 2011, Frank was awarded an Honorary Professorship by the National Sports Academy of Bulgaria in recognition of his influence in advancement of coaching inEurope. This followed an Honorary Doctorate byLoughboroughUniversityfor his contribution to coaching and coach development.
Topics
Frank has combined his talent for inspiring sporting achievement with motivating performance in the business world. By recognising the synergy between effective coaching techniques on the playing field and in the office, over the years he has developed a range of inspirational keynote speech themes, workshop topics and bespoke employee development programmes that remain as popular and relevant today as ever.
His expertise derives from years of detailed research into individual success and achievement. Frank combines this wealth of knowledge and experience into an informative and motivational approach to achieving long-lasting transformation of both individual and team performance.
With a history of sporting excellence through coaching some of the best talent in the world he has, over the past 25 years of speaking to hundreds of companies both in the UK and around the world, recognised six key areas of personal and professional development that, once taken out of a "training room" mentality and put into a different context, can lead to individual and team progress simply by giving a different perspective.
To book Frank Dick Motivation & Performance Excellence Speaker for your event, contact Front Row Speakers on +353 1 485 3991 or email welcome@frontrowspeakers.com