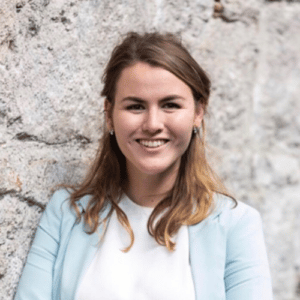 Aimée-Louise Carton
Founder of KeepAppy & Mental Health Speaker
Aimée-Louise Carton is one of Ireland's leading wellbeing advocates and has been recognised as launching a "digital mental health revolution" in Europe. Her focus areas include speaking on topics of Workplace Wellbeing, Mental Health, Female Entrepreneurship / Women in Business, and Innovation.
Following a suicide attempt, she has used her pain and recovery to found Europe's fastest growing wellness platform KeepAppy, the wellness app that acts as a gym for your mental health. She uses her mental health journey to connect and empower individuals, providing a truly authentic experience with her powerful talks. However, she is not just another survivor story, as her work in positive psychology means that she educates her audience with practical and proactive mental wellbeing tools that can be used every day.
Aimee is an incredibly talented public speaker, combining her talents as a storyteller with her ability to deliver practical materials and tools in an genuine and impactful way. Aimee is also the co-founder of the largest umbrella mental health network in response to the COVID Pandemic in America and assisted in developing the technology to support individuals in accessing crisis care during this uncertain time. She is the co-chairwoman of the Irish Graduates Network and an active participant in the Family Business Network. Through her She has been recognised as one of the 30 Under 30 Entrepreneurs in Ireland and one of the 20 women to watch in 2020.
Topics
Aimee has facilitated talks and workshops internationally on a variety of subjects including Workplace Wellbeing, Mental Health, Female Entrepreneurship / Women in Business, and Innovation. Her upbeat and inspiring approach is received excellently by all audiences and have proven to empower individuals in a lasting way.
Workplace Wellbeing
Mental Health
Female Entrepreneurship /Women In Business
 Innovation
To book Founder of KeepAppy & Mental Health Speaker Aimée-Louise Carton for your event, contact Front Row Speakers on +353 1 485 3991 or email welcome@frontrowspeakers.com.