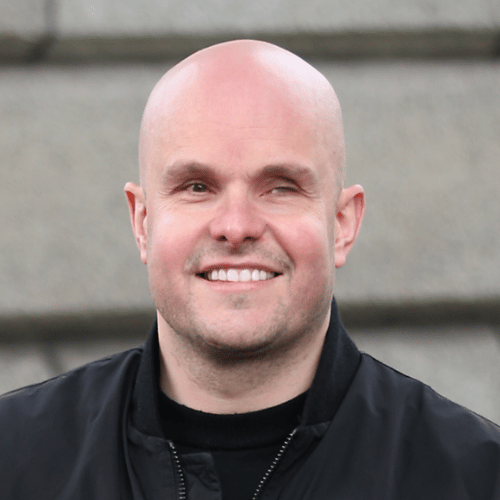 Mark Pollock
Explorer, Innovator & Collaboration Catalyst
Explorer & innovator Mark Pollock helps people achieve more than they thought possible. It is tough to deliver world class performance. Your people won't do it by chance. With a high-impact catalyst you can help them act with the courage to make it happen. Mark Pollock is that catalyst. Unbroken by blindness in 1998, Mark went on to compete in ultra endurance races across deserts, mountains, and the polar ice caps including being the first blind person to race to the South Pole. He also won silver and bronze medals for rowing at the Commonwealth Games.
In 2010 Mark was left paralysed after falling from a second story window. Explorer & innovator Mark is now exploring the frontiers of spinal cord injury recovery. Combining an innovative electrical stimulator over his spinal cord and a drug super-charging his nervous system Mark has taken hundreds of thousands of steps as the world's leading test pilot of Ekso Bionics robotic legs. Through the Mark Pollock Trust he is on a mission to find and connect people around the world to fast-track a cure for paralysis.
As a speaker, Mark is best known for his 2018 TED Talk focused on resolving the tension between acceptance and hope delivered jointly with his fiancée, Simone George. It gathered over 1.5 million views in its first 6 months online and has been translated into 12 languages. He has inspired millions of people in hundreds of organisations and is a Davos, World Economic Forum, InnoTown, F.ounders, EG and Wired speaker.
Described in the Daily Telegraph as "a story of courage, determination and hope" explorer & innovator Mark has used his hard-earned expertise to help people achieve more than they thought possible in over 250 organisations worldwide as well as Davos, Wired and TEDx. Acknowledged as an expert in smashing expectations, Red Bull UK's Managing Director describes him as "awe-inspiring". Head of SMB Sales says he "started a conversation about challenging conventional wisdom that is ongoing at Google".
Selected by the World Economic Forum as a Young Global Leader, Mark is on the Board of the Christopher and Dana Reeve Foundation (USA) and is a Wings for Life Ambassador (UK). He is the subject of two acclaimed documentaries – Unbreakable, and Blind Man Walking – and is co-Founder of the global running series called Run in the Dark.
In addition, explorer & innovator Mark has been awarded honorary doctorates by The Royal College of Surgeons in Ireland and also from Queens University Belfast. And, he holds a diploma in Global Leadership and Public Policy for the 21st Century from Harvard University, degrees from Trinity College Dublin and The Smurfit Business School.
Topics
Adversity & Challenges — Maintaining a Resilient Mindset Under Pressure
Sometimes we choose our challenges, sometimes our challenges choose us. What we decide to do about them is what counts. Deciding to be a competitor, a realist and a collaborator offers your people a chance of maintaining a resilient mindset under pressure. Mark Pollock's keynote on adversity and challenges uses the power of active decision making to deal with challenges, regardless of where they come from, to help your people become more resilient.
Leadership & Motivation — Leading Through a Crisis and Developing Intrinsic Motivation to Move Forward
Uncertainty and change typify a crisis and it's difficult to lead in such circumstances. By providing your people with insights into the resilience, attitude and decisions of others facing extreme circumstances you will help them to develop the intrinsic motivation to move forward. Mark Pollock's keynote on leadership and motivation delivers deep insights for leaders to navigate through the crucible moments they face and lead others to achieve more.
Mindset & Performance – Challenging Expectations to Perform at a Higher Level
It is tough to deliver world class performance. Your people won't do it by chance. With a high-impact catalyst you can help them act with the courage to make it happen. Mark Pollock's keynote on mindset and performance is that catalyst – it challenges your people to examine expectations of themselves and others to perform at a higher level.
Collaboration & Teamwork — Creating and Motivating Dispersed Teams Across Disciplines and Geographies
Galvanising a disparate group of people around a common goal is not easy. Yet when it happens, when we collaborate, that is when major breakthroughs happen. Mark Pollock's keynote on collaboration and teamwork provides your people with insight into how high-performance teams get things done when others can't.
Human Enhancement – Exploring the Intersection Where Humans and Technology Collide During the 4th Industrial Revolution.
Exploring the intersection where humans and technology collide is essential for businesses to maintain their competitive edge. By raising the consciousness of your people to the human dimension of the 4th industrial revolution, you will empower and encourage innovation at the edge. Mark Pollock's keynote on human enhancement provides your people with insight into the transformative intersection of technology and humankind as he explores a cure for paralysis using robotics, neuro-modulation, AI and VR/AR.
Testimonials
"It was a privilege to have Mark address both our customers and our Management Team at Google. He delivers that rare combination of inspiration, perspective and practical insight that forces his audience to really reflect on how they rise to their personal challenges and set goals that seem unachievable. He delivers his message in a deeply personal, humorous and memorable way that lands with his audience. It was a pleasure for all of us to spend time in his company. Inspiring." – Regional Director, Northern Europe, Google
"Mark presented at our Global Sales Partners Conference in Twitter and was exceptional. His ability to link his personal story to people's everyday life and work challenges was excellent. The session was not just about listening to an incredible story, it was a chance for everyone to really think about themselves. There is something in this talk for everyone."– Senior Director EMEA, Twitter
"Mark presented at our North American Leadership Conference in Chicago. It was attended by 200 of HSBC's senior managers across Canada and the USA. Given the complexity of today's financial services industry, Mark's insight into the motivational challenges facing our management teams was accurate and his suggestions and ideas were equally relevant." – HSBC
"Mark provided a powerful perspective to the assembled media at Davos. Mark doesn't just talk about the transformative intersection of technology and humankind – he lives it. As he explores a cure for paralysis, he helped people understand the human dimension of the fourth industrial revolution at the World Economic Forum's annual meeting." – Head of Public Engagement & Foundations, World Economic Forum
"Mark was a speaker at National Geographic's Extreme Explorers dinner in Davos in January 2016. His personal story and insights were incredibly powerful, and clearly had a profound impact on everyone in the room. He embodies the spirit, resilience and determination that are the hallmarks of what it means to be an explorer." – Editor in Chief, National Geographic Magazine
"It was a pleasure to have Mark attend, he delivered an excellent speech which everyone found very inspiring and was taken on board by many of yesterday's presented who mentioned him as a source of inspiration we can all learn something from going forward. Explorer & innovator Mark was a pleasure to deal with and was a pleasure to talk to, feedback all round has been excellent and I know that any attendees who had the opportunity to talk with him at the event were very appreciative of it." – Denise Cahill, Human Resources Project Manager, Musgrave Group.  
"Mark brought a hugely authentic and moving story to our conference. He challenged us all to think about the mind-sets we bring to work and life, and to change those for the better." – Global HR Manager Crude & SEE, Shell UK.
"Mark's presentation and participation was a key component to the success of our biggest Channel Partner conference to date. His incredible story linked perfectly with the conference theme and was a huge inspiration for our participants. Mark's insights 'Made it easy' to set our partners up for success. I would not hesitate for a moment to recommend Mark to any conference organiser." – Group Manager Western Europe, EOC Ops Microsoft.
"In the weeks following Mark's talk I have seen managers' at LinkedIn reference Mark's approach to solving complex problems. His talk was inspirational and can be applied in our daily business lives." – Director, Northern Europe & Growth Markets, LinkedIn. 
"During our recent away day in Belfast, explorer & innovator Mark spoke to our team who had travelled from across the UK. He was truly inspiring, sharing insights into resilience and adaptability while showing how important it is to be both competitive and collaborative if you want to succeed – a powerful message for the challenges and constant changes we face in our business. The entire team were not only fully engaged on the day, but since Mark's talk, we have reflected on what he said and has undoubtedly shaped how we think about what we do at all levels of the team. Truly inspirational."  – Business Development Director, ITV