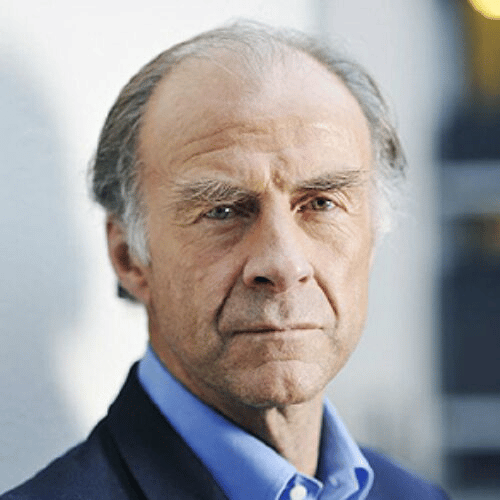 Sir Ranulph Fiennes OBE
The World's Greatest Living Explorer
World famous explore & author Sir Ranulph Fiennes was the first man to reach both poles by surface travel, and the first to cross the Antarctic Continent unsupported. In the 1960's Sir Ranulph Fiennes was removed from the S.A.S Regiment for misuse of explosives but, joining the army of the Sultan of Oman, received that country's Bravery Medal on active service in 1971. Explorer & author Sir Ranulph Fiennes is the only person yet to have been awarded two clasps to the Polar medal for both Antarctic and the Arctic regions. Fiennes has led over 30 expeditions including the first polar circumnavigation of the Earth, and in 2003 he ran seven marathons in seven days on seven continents in aid of the British Heart Foundation, 3½ months after a massive heart attack.
In 1993 Her Majesty the Queen awarded explorer & author Fiennes the Order of the British Empire (OBE) because, on the way to breaking records, he also raised over £17 million for charity. He was named Best Sportsman in the 2007 at the ITV Great Briton Awards and in 2009 he became the oldest Briton to reach the summit of Everest, raising a total of £6.3m for Marie Curie Cancer Care. Additionally, in January 2014, Fiennes raised over $2 million with The Coldest Journey for Seeing is Believing. Furthermore, in 2015 the explorer and author successfully completed the Marathon des Sables raising over £1 million for Marie Curie.
Sir Ranulph Fiennes also holds the current world record as being the only person ever to have climbed Mount Everest and crossed both Antarctica and the Arctic Ocean via the Poles.
The highly acclaimed explorer and author Fiennes has also written 24 books detailing his incredible adventures and exciting life. Sir Ranulph Fiennes most recent book "Climb Your Mountain: Everyday Lessons From an Extraordinary Life" was released in 2022. Now in his late seventies, through this book Sir Ranulph Fiennes looks back on a lifetime of exploration, and draws powerful, inspiring lessons that we can all use when faced by the tribulations of everyday life.  The acclaimed explorer & author is described by The Guinness Book of Records as "the world's greatest living explorer".
Topics
Motivation
Teamwork
Adversity
Adventure
Exploration
Testimonials
"One of the world's top ten speakers". – Daily Telegraph 
"The entire room was spellbound by your words and adventures, they were truly inspired by you." – De La Rue
"The presentation was extremely entertaining, witty, inspiring, thought provoking and humbling, the best speaker we have every had and will find it difficult to follow next year." – Philips
"Sir Ranulph went down a storm. His presentation was amazing (you could hear a pin drop in the room)." – South Stand Conference
"It was clear that everyone was hugely energised following your presentation which was both entertaining and thought-provoking on many levels." – E-On
"You lead such an inspiring life and not only defy the odds but also ensure that those who need help receive it with the many millions you and your team have raised over the years." – Londis
"The feedback we have received was immense and you are by far the best keynote speaker we have ever had" – Comptia
"My admiration for him as a truly great Briton has increased 100 fold following his talk" – Bae Systems
"He thrilled and delighted the audience with his gripping stories from his expedition and adventures." – Chester Festival
"Excellent, very inspirational, fantastic speaker." – NHS Northwest
"Thank you again for making the evening so memorable, not only for myself but for the 590 people in attendance on the night, the feedback was overwhelmingly positive." – RICS QS & Construction