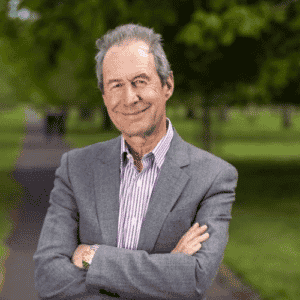 Dr. Harry Barry
Doctor and Best-Selling Author on Mental Health
Doctor & Best-Selling Author Harry Barry, is an experienced medical doctor who qualified in 1976 and has worked as a senior GP within the Irish Health System for over thirty-five years. Additionally, he has a long-standing interest in mental health especially the management of anxiety, depression and toxic stress, as well as the prevention of suicide. He is especially interested in the concept of emotional resilience and how developing skills in this area could transform our mental health.
Dr. Barry has developed a holistic approach with an emphasis on the combination of Neuroscience concepts, lifestyle changes and drug therapy with the application of simple CBT approaches to effectively manage these approaches. He retired from general practice in 2013 to focus solely on mental health. The Doctor & Best-Selling Author emphatically works on a consultancy basis, combining clinics, writing, media and public information lectures, as well as assisting fellow GP's, nurses and therapists, with lectures and workshops.
Dr. Harry Barry is a member of an international group of experts exploring how best to measure cognition in depression. He has written extensively on the subject and his Flag series of books have been widely read by professional and lay people interested in the area. His 6th book on Anxiety and Panic got to number one in the best–seller nonfiction list in Ireland. It offers a novel approach to combining Neuroscience concepts with CBT to assist people eliminate or learn to deal with panic attacks, phobias, social anxiety and general anxiety.He is a regular contributor to national press and media and is a monthly contributor to the Sean O' Rourke show for almost four years. He is a member of the Advisory Board of the College of Psychiatry and former Board member of the national depression group Aware.
Topics
Harry is a Drogheda based practitioner who has almost 40 years' experience as a medical doctor with most of that spent as a full time GP. He has a long-standing interest in mental health and in improving our understanding of the role of neuroscience. His speaking topics include:
Embracing change
Emotional healing and resilience
Self acceptance
Wellness topics surrounding anxiety, stress and panic.
Testimonials
"Dr Barry believes that many of us never learn to accept ourselves without set conditions, and if we can overcome this mindset, we have a better chance of staying well. This is an invaluable guide for those who may find themselves in darkness and are desperately seeking some light, and for those who try to help them find it." – Niall Hunter
To book Doctor and Best-Selling Author on Mental Health Dr. Harry Barry  for your event, contact Front Row Speakers on +353 1 485 3991 or email welcome@frontrowspeakers.com.