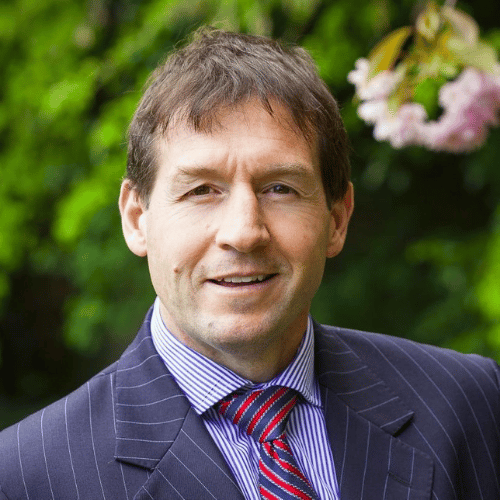 Alain Rolland
Former International Rugby Referee & Business Consultant
Former International Rugby Referee & Business Consultant Alain is a former Irish international scrum half. He is recognised as one of the best International referees of all time. In Rollands 15 year refereeing career, he took charge of three Heineken Cup Finals and 66 test matches. This includes the Rugby World Cup Final in Paris in 2007. He also worked for over 25 years in the financial industry.
Alains experiences in elite sport while and working as a General Manager in a financial services company provides him with compelling insights into developing successful strategies. These include Planning, Communication, Decision Making and Leadership Strategies.
As a Business Consultant, Alain has a range of approaches that will upskill your management and sales teams. Including the skills to excel and get the most out of your employees. His expertise with 25 years in management and running an independent mortgage brokerage for 17 years employing 25 people at its peak, will assist any company increase its bottom line.
As a motivational speaker Alain imparts his wealth of experience on and off the pitch as an independent consultant. "The secrets of success in sport and business are similar – the same values apply", says Alain.
He has combined his expertise on the field and in the boardroom to develop a truly unique skillset. His insights into the highly pressurised world of elite sport enable him to share communication and behavioural skills that revolutionise approaches to developing vital skills in managers.
Topics
Alain gives a 60 minute presentation. This includes45 minutes of which is on the chosen topic and a 15 minute Q&A session using real life examples. To ensure maximum effectiveness of the presentation, Alain initially will meet with the organization to discuss the key messages that are to be addressed.
TOP 5 PRESENTATIONS:
– Planning and Preparation
– Decision making under pressure
– Communication: Knowing what to say, how to say it and to whom
– Leadership: What skills are required to make an effective team
– Feedback: Effective feedback up and down the corporate ladder
With an enthusiastic passionate and natural style Alain can instil into his audience trade-mark brand of energy and enthusiasm from his own personal experiences, helping them to confront challenges differently and achieve individual and team success.
He shares the secrets of motivation and the importance of planning and inspiring audiences of all sizes.
Testimonials
Niall Gleeson – Alstom
Alain recently made a presentation to a conference Alstom had organised on Railway Safety, with a brief of "making difficult safety decisions under pressure".
"Alain met with us and took our points on board and incorporated them into his presentation very well. Alain's presentation was entertaining and humorous but still managed to convey the serious message we were trying to deliver at the conference. His messages on planning, communication and organisation are common to all industries and his delivery is relaxed and honest which makes him all the more credible. He was clearly the highlight of our conference and the feedback from attendees was extremely positive. We will be using his services again in Ireland if the opportunity arises and Alstom UK personnel who attended the conference are keen to use him for similar work in the UK."
Dean Forbes – CEO, KDS
"We worked with Alain for our company kick off in 2015. We were bringing the whole company together, in a single location to share strategy and do some team building activities and were looking for an external guest to speak to our group about collaboration and inter country communication.
Alain shared his experiences and real life examples of where and how he had to collaborate effectively whilst commanding respect in every interaction. His ability to mix his experience as a professional sportsman and referee with our daily reality as a software company was insightful and refreshing. We had nothing but positive feedback from our employees both in terms of his performance as a guest speaker and the relevance of his message. I'd highly recommend him and am sure to work with him again."
Yann Ricourt – Kerry Group, Corporate HR Director
"Alain supported us as a guest speaker in a leadership event we organised with our procurement team. One year later the team still comment on it and how it has helped to develop a high performing team culture. His ability to translate sports scenarios and real life example to business context is outstanding.
He was inspirational on his ability to make quick decisions ("One of the most controversial decisions in the history of the World Cup Rugby"), the art of preparation, individual and team motivation, building a team culture (the All Blacks story). With a great blend of stories and sense of humour, but also business reference Alain made our day a very special one. To top it all, Alain is also a very nice guy and we managed to get a few stories from him at our team dinner."
Michelle Murray – Damovo Global Services, Marketing Manager
"Alain was excellent. His presentation was both interesting and very interactive – which kept the audience engaged throughout the session. He presented some very useful business insights using his experience on the rugby pitch. I think everyone came away with something to think about.

His attendance through lunch was also appreciated. Our customers who were fortunate enough to sit at his table really valued the opportunity to engage further with him."
Conall O'Halloran – KPMG
"Alain's presentation to our management team was very well received. Alain spent time tailoring the presentation and talking to members prior to the conference. His enthusiasm for the game, his motivation, team engagement and his focus on planning in advance were key and very central to both our internal and external business environments. Thank you Alain."
To book Former International Rugby Referee & Business Consultant Alain Rolland for your event, contact Front Row Speakers on +353 1 485 3991 or email welcome@frontrowspeakers.com