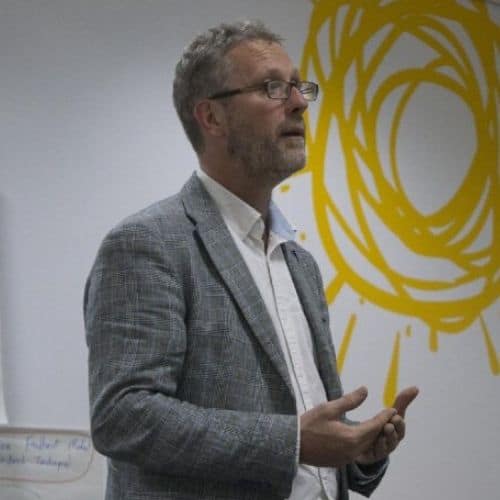 Michael Cox
Training & Development Specialist
MCX Director Michael Cox is noted for his ability to retain learners' interest in an informal, respectful and light hearted manner. He ensures that beneficial and relevant learning is achieved.
Prior to establishing MCX Training & Development Michael accumulated a range of experience and skills working in private, public and social enterprises in Ireland and overseas. His last position, before setting up his own company was Head of Training & Education with Chambers Ireland where he managed projects worth in excess of €4m, grant aided by (the agency that was formerly) FÁS, Skillnets Ltd., European Social Fund and directly from the Department of Enterprise, Trade & Employment. Michael also held the position of Deputy Chief Executive Officer with Waterford Chamber. While Deputy CEO of Waterford Chamber Michael established 'Training Solutions'; a Waterford Chamber initiative that won a runner up award in the 'Best Business Venture' category at the World Chamber Congress in Durban in 2005. Also while Michael was Deputy CEO, Waterford Chamber won Irish Chamber of the Year 2004.
Michael's passion is exploring, imparting and nurturing best practice relating to adult learning. As a result it is no surprise that his signature programme is a QQI Level 6 Training & Development programme where he focuses on the key ingredients to planning, delivering and evaluating effective training in accordance with best practice in adult learning with a generous portion of inputs from his 22 years of experience working with trainers and adult learners. All that MCX does is tailored to suit the needs and experience of the learners.
While his unique approach to training, light hearted and practical focus has attracted trainers with 10, 20 and 30 years training experience to attend his programmes MCX has also developed a range of specialized train the trainer programmes specifically for non managerial part time trainers who deliver skill demonstrations on an informal group or one to one basis.
Testimonials
"Experienced trainer … was superb in nurturing the trainees to a higher level. Really got the best out of all of us. Very impressive!" – Bill Cullen, Renault
"The tools I learned are invaluable… I could have stayed another 5 days, I would highly recommend Michael Cox" – Jo, Merck Group
"Michael… fantastic, high energy, high engagement with all participants; right person in right job" – Darina, Abbvie Labs Ireland
"It was really enjoyable and I am now putting the theory into practice and it is making a difference" – Patrick, Sunlife Financial