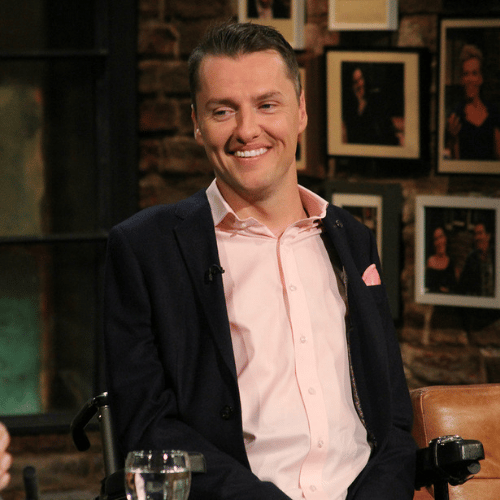 Stephen Cluskey
Entrepreneur, Advocate & Motivational Speaker
Stephen Cluskey is an award-winning entrepreneur, disability advocate, public speaker and everything in between. He suffered a catastrophic spinal cord injury at the age of 18, which left Stephen paralysed from the neck down. Since then he has gone on to achieve, in a short time, more than most would in a lifetime.
Stephen has graduated with an honours business degree. He started two award-winning businesses and one social enterprise and advocated on behalf of disabled people. Cluskey has spoken in front of large crowds and  been appointed to a government body by the Minister for transport. He changed regulations at the top level, helping secure more than €3 million to put more wheelchair taxis on Irish roads. Stephen designed and help develop an IFTA nominated nationally broadcasted TV show to try to change people's perceptions around access issues.
He has acted as a brand ambassador for Nissan and won numerous awards as an individual as well as for the businesses.
Stephen was recently a guest on the Late Late Show to talk about life and his most recent campaign.
He offers a unique, positive perspective on life. That  challenges individuals to realise that almost anything is possible with the right will and determination.
Topics
– Motivational
– Overcoming adversity
– Resilience
– Determination
– Achieving your goals
– Adapting to change
– Making an impact
Testimonials
It's very rare that a person can bring absolute silence to a room full of 100 sales professionals. Stephen's talk in our business was both emotional and inspirational. People face adversity in various parts of their life but Stephen's story and wisdom offer the audience learning and inspiration from a person who has faced the ultimate yet has achieved the most amazing things in life. Stephen sets out in his moving talk what can be achieved when you have unwavering determination, resilience and will to achieve. – Brian Crowley – CEO, TTM Healthcare 
Stephen is a brand ambassador for our Nissan Generation Next programme, in this capacity he has spoken at numerous events on our behalf. Stephen is an outstanding public speaker, he is authoritative, inspiring, hugely engaging and very impactful. Our programme is designed to support the leaders of tomorrow and when you hear Stephen speak you are left in no doubt that that this is exactly what Stephen is. He is living proof that challenges, no matter how seemingly insurmountable, are there to be overcome. We have found that listening to Stephen speak has helped put business challenges in perspective and encouraged people to find solutions and develop resilience. – Jeanne McGann – Head of Marketing, Nissan Ireland
Stephen has spoken at a number of SII events, most memorably at our annual key fundraising event, the Spring Lunch, which had an attendance of over 250. Stephen's speech was truly inspiring and was at once passionate, informative, challenging and humorous. Stephen held the audience in rapt attention and received a sustained standing ovation for his contribution. I have rarely heard such an impactful speaker. – James McCarthy – Chairman, Spinal Injuries Ireland ("SII")
Stephen brought a hugely authentic, unique and moving story to our Union Dinner giving us a whole other perspective on life. His talk was extremely memorable, engaging, sad yet uplifting and rarely have I seen an audience so moved from listening to a speaker. You could hear a pin drop amongst the 350 people gathered in the room. Would highly recommend Stephen, whatever the occasion. – Eugene Bent – Director, Dublin Chamber of Commerce
To book Entrepreneur, Advocate & Motivational Speaker Stephen Cluskey for your event, contact Front Row Speakers on +353 1 485 3991 or email welcome@frontrowspeakers.com