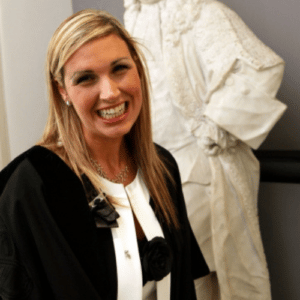 Dr. Sinead Kane
PhD Doctorate, Guinness World Record Holder, Visually-Impaired Athlete and Qualified Solicitor
Sinead Kane is a PhD Doctorate, Guinness World Record Holder, Visually-Impaired Athlete and Qualified Solicitor. Within the space of three months, Sinead was awarded two PhD doctorates. In October 2017 she received an honorary PhD from the National University of Ireland, and in December 2017 she earned a PhD from Dublin City University.
She is also is a double Guinness World Record Holder. In February 2018 she broke the Guinness World Record for the furthest distance covered by a female on a treadmill in 12 hours.
Sinead is also the holder of a Guinness World Record for being the first blind person to complete a marathon on each of the seven continents, a feat which she completed in less than seven days in January 2017.
She is also the first Irish female to do the world marathon challenge. Sinead completed their first marathon of this challenge at Union Glacier, Antarctica followed by Punta Arenas (South America), Miami (North America), Madrid (Europe), Marrakech (Africa), Dubai (Asia) and Sydney (Oceania).
She came joint-first in her marathon in Dubai. This is all remarkable given that Sinead only did her first marathon ever in October 2014 and only took up running in April 2012.
The World Marathon Challenge is an amazing logistical and physical challenge, running a marathon on each of the seven continents within seven days. Sinead could not have done it without the help of her coach and guide runner, John O'Regan, an elite ultra-runner in his own right.
Both Sinead and John successfully completed the world marathon challenge which included 59 hours of flight time, 43,509KM flight distance as well as 295KM of running. They passed through 15 time zones and survived on scant sleep.
In 2015, Sinead made sporting history when she became the first visually-impaired Irish person to run an ultra-marathon in Ireland. Sinead was also an invited athlete and brand ambassador for the Wings for Life World Run in Brazil where she finished 23rd female out of 1413 females.
She is also a certified mediator, writer with the Irish Criminal Law Journal, and qualified as Ireland's first visually impaired solicitor in 2009. The above achievements are admirable but are even more so when one considers that Sinead only has five percent vision and is registered as legally blind.
Sinead has overcome much adversity throughout her life and now wants to help others. Sinead proves how those who persist in spite of a disability can develop determination, motivation, and creativity.
"I can choose to be blind or I can choose to be visionary, and I choose to be visionary. It takes courage to have limited sight and to run with thousands of people because the risks of being injured are higher."
"What I have learned from life is that courage has a ripple effect. Every time we choose courage we make those around us feel better and we make the world a bit braver."
Ironically, Sinead's surname Kane means 'little battler' which she says reflects her life of trying to overcome adversity. She has a real ability to connect with people, and can speak to audiences on any of the following subjects: diversity, inclusive business, health, wellbeing, leadership, social responsibility and more.
Previous clients include: Restaurants Association of Ireland, Voxpro, Aer Lingus, Aer Rianta, EY, AIB Bank, Irish Life, KBC Bank, Permanent TSB, Arthur Cox, Bio Marin, Aspen Pharma, Eli Lilly, Deloitte, GSK, Workday, Foroige, BT, PwC, Conlan, Ding, Cornmarket, MSD, Brandtone, Talent Summit, All Ireland Business Summit, Alcon, EMC Ireland, Pfizer Ireland Pharmaceuticals, The Barry Group, Irish Universities, Fighting Blindness, Fight for Sight, Irish Institute of Legal Executives, Network Cork, Limerick Institute of Technology, The National Association of Principals and Deputy Principals and more.
Topics
Resilience
Overcoming Obstacles
Teamwork
Personal Growth
Self-Belief
Endless Vision
Testimonials
"Thanks again for pulling yesterday together it was a great day, Sinead in particular was central to the success of the whole day. She was an inspiration to us all and her message, achievements and candid delivery resonated with everyone in the room. The feedback since the event has been phenomenal so please pass on my gratitude to Sinead and we are rooting for her to get a positive decision on her appeal." – From Virgin Paul Farrell, Commercial VP.
To book PhD Doctorate, Guinness World Record Holder, Visually-Impaired Athlete and Qualified Solicitor  Dr. Sinead Kane for your event, contact Front Row Speakers on +353 1 485 3991 or email welcome@frontrowspeakers.com