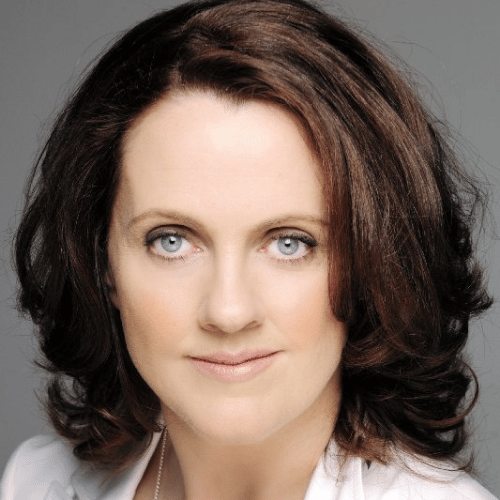 Ruth Scott
Ruth is best known for a long and successful career broadcasting on RTE 2fm. From the 2fm Breakfast Show to hosting Drivetime, she now resides on 2fm weekends. Ruth does this between Saturday and Sunday 3 – 6 pm, where her JNLR figures have been steadily increasing. Her show regularly features on the list of the country's Top 20 programmes.
She has a knack for making people instantly comfortable, reading a room and delivering with an appropriate style.
Ruth is in demand as a panellist for both The Today Show (RTE) and Midday (TV3). Last year, she was invited to moderate music related discussions at the 2015 Websummit. She is often invited to speak at business, school and local events, both in her native Roscommon, and nationwide.
Most recently, she has presented the ITLG Young Innovators Event, hosted the GALA (Gay & Lesbian Awards), the Foroige Aldi Youth Citizenship Awards; she hosted the first ever UN World Happiness Day event in Ireland in 2015, presented on the pop-up mental health radio station "Upbeat," and hosted the PRII Christmas Lunch ceremony.
For almost a decade, Ruth has MCd and entertained the 40,000 strong crowd for the VHI Womens Mini Marathon, striking a balance between fun and informative, but always energetic. Ruth throws her hat in the ring for many challenges and has reviewed cars for www.wheelsforwomen.ie; she featured in a documentary climbing Kilimanjaro for CMRF and learned how to ride a Harley Davidson for another charity endeavour. Writing  and performing  her own work is enjoyable to Ruth for example, at the Barnardos "Under My Bed" fundraising event in 2015 and has, for the second year in a row, been invited to be a guest reader at the European Literature Night later this year.
Testimonials
"Ruth was the MC for the PRII's 2015 Christmas Lunch. An utter professional throughout, Ruth brought a great sense of fun, energy and enthusiasm to the event. I would have no hesitation for recommending her for similar events in the future."
– John Carroll, PRII

"A massive, big, heart-felt thank you for the wonderful Monday morning talk you gave us at the IMAGE Networking Breakfast this week.
Your talk was insightful, funny and packed with helpful info for budding broadcasters who now have a much better idea on ALL that's involved in a day's work.
In seeing your slides, I was propelled back to Junes gone by, and the Womens Mini Marathon and how I'm always far more in awe of your MCing skills than I am of the 'atheletes' (myself included!). How you keep the chat going, and fresh for all those hours is a talent very few have. You have such energy up there, and it always sounds like it's the first time you've said your continual words of encouragement. I hope they give you a very special medal of your own!"
– Melanie Morris, Editor Image Magazine
"From start to finish, Ruth Scott was an excellent MC for our Plain English Awards ceremony. Catering for a diverse international audience, Ruth held the attention of the gathering at key intervals throughout the evening. Ruth delivered on our exact brief and surpassed our expectations in her ability to entertain as well as inform. Our audience feedback on the event was very positive and Ruth played a key part in making our event such a resounding success. Ruth was a pleasure to work with and I would highly recommend her."

– Inez Bailey, Director, NALA     
"What a motivator! Nobody else could have 40,000 in the palm of their hand as she does every year in the Flora Women's Mini Marathon"
– Jackie Wright, Women's' Mini Marathon Press Officer
Ruth hosted both elements of our Christmas Party in the Mansion House last year. Her tone was perfectly judged for the earlier speech-based part of the evening, while keeping it peppered with amazing energy and great fun. She connected and engaged very naturally with everyone in the room. As a result, this is why we have asked her back again to host the 2015 night!
– David Jones, Social Committee William Fry