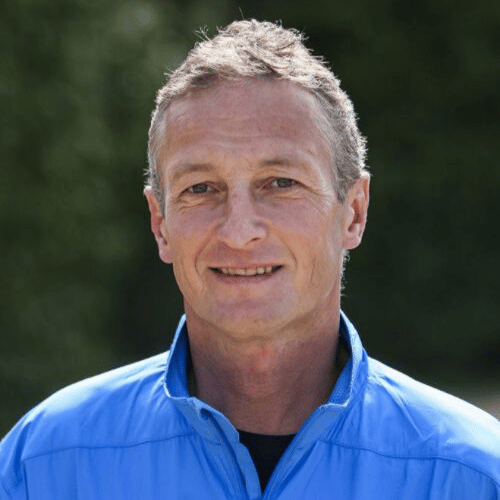 Richard Dunwoody MBE
Champion Jockey, Columnist & Motivational Speaker
Firstly, three times Champion jockey Richard Dunwoody is one of Britain's most successful jockeys ever. Secondly, he was at the forefront of English National Hunt racing in the 80's and the 90s, winning the Big Three races – the Grand National (twice on Miinnehoma and West Tip), the Champion Hurdle and the Cheltenham Gold Cup.
When he hung up his boots at the age of 35 due to injury in 1999, he had won a record 1,699 races.  Accordingly, he is best known for his partnership with the legendary Desert Orchid on whom he won seven races. Richard was awarded an MBE in 1993 for services to his sport.
A racing pundit for the BBC, sports columnist, and motivational speaker, in January 2008 Richard also completed a gruelling 680-mile, 48-day trek on skis to the South Pole on a new route, one that Shackleton intended to take in 1915.
From May to July 2009 Richard undertook the '1000 Mile in 1000 hours' Barclay Challenge which involved walking one mile in every hour for 42 days with minimal sleep throughout this period. As a result, this raised over 150K for the four charities that Richard patronises.
2009 also saw Richard's (albeit brief!) appearance on the BBC hit show 'Strictly Come Dancing', an experience which he describes in his autobiography, 'Method in My Madness' as far more daunting than riding around the Aintree Grand National fences!
Moreover, audiences will learn about the driving ambition which led him to become a household favourite in racing circles at only 21 and the focus and determination which kept him at the forefront of National Hunt racing for 15 years and helped him complete his greatest ever achievement reaching the South Pole. Additionally, Richard also considers how he focused his mind to overcome the extreme sleep deprivation of walking 1000 miles in 1000 hours, and confronting the nerves that he suffered when taking to the Strictly Come Dancing floor with Lilia Kopylova in front of 10 million viewers.
At A Glance
– Born in Belfast, Northern Ireland on January 18th 1964
– Parents: Former national hunt trainer George Dunwoody and his wife Gillian
– Educated at Rendcomb College near Cheltenham
– High points include winning the Grand National on West Tip in 1986 and Miinnehoma in 1994
– Cheltenham Gold Cup on Charter Party in 1988
– Best known for his partnership with Desert Orchid on whom he won seven races
– Major wins – Grand National (2), Cheltenham Gold Cup, King George VI Steeplechase (4), Champion Hurdle, Breeders Cup Chase USA (2)
– Until 2002 Richard held the record for the most winners ridden (1699 in Britain) and became Champion Jockey three times 92-93, 93-94, 94-95
– Awarded the MBE for services to racing in June 1993
– Books – Hell for Leather, Duel, Hands and Heels, Horses of My Life, Our Gumball Rally, Obsessed, Method in my Madness
–  Richard reached the South Pole, the first person on foot to do so on foot and unresupplied from the Recovery Glacier, a total distance of 680 miles in 2008.
– He achieved the Barclay Challenge in Newmarket walking 1000 miles in 1000 hours – one mile in every hour for 42 days with minimal sleep in 2009.
– Dunwoody was a contestant on Strictly Come Dancing Series 7 in 2009.
– Richard completed the Polar Race, a 350 mile ski race to the Magnetic North Pole in 2003.
Topics
– Controlling the controllable
– Choosing your attitude
– Goal setting
– Overcoming the fear of failure
– Learning from mistakes and dealing with setbacks
– Building a high performance team
– Doing the basics
– Focus and commitment needed to get to the top
– An Insight into the World's Greatest Race, the Aintree Grand National
– Conquering the South Pole
– The 1000 Mile Challenge and the people who inspired and motivated Richard
Testimonials
"Richard was a huge success and warmly received by everybody. There was a sense that we were welcoming home a national hero." –Paul Ennis, Marketing Director, ESB Ireland
"What a roaring success this event was. It was huguely enjoyable and very interesting. Inspiring." – Penny Newton, APM Project Manager
"The feedback has been excellent with everyone thoroughly enjoying Richard's talk and experiences. It was our most successful event ever…He is some guy!" – Gillian Armitage, British Red Cross
"Richard made an inspiring presentation to our company….was at ease with the audience… and was very open and friendly with members of the company…We would highly recommend him as an inspirational speaker." – Paul von der Heyde, Managing Director, Kinnarps UK Ltd.
"I would like to thank you for the excellent presentation….There was great interest in your presentation and we have received excellent feedback from delegates." – Michael J Rogers, Chief Executive, The Sales Institute of Ireland
"I had the pleasure of listening to your talk today…on behalf of Bracknell Forest Homes. It was the highlight of the day…" – Clive Trimble, Bracknell Forest Homes
"Richard is a lovely, professional man and was very approachable and amenable. His speech was great and my colleagues were very impressed that he was happy to speak to them afterwards and have pictures taken. Would definitely recommend him." – Tina Skerritt, Abbott Diagnostics
To book Champion Jockey, Columnist & Motivational Speaker Richard Dunwoody for your event, contact Front Row Speakers on +353 1 485 3991 or email welcome@frontrowspeakers.com