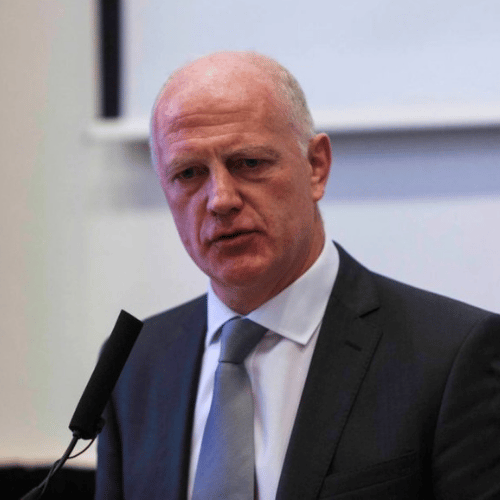 Phillip Matthews
Business Coach, Leadership Consultant & Speaker
Phillip Matthews was President of the National College of Ireland in March 2010 until 2016. Prior to joining NCI, Phillip was responsible for establishing and directing the executive education centre at UCD Michael Smurfit Graduate Business School. Before entering academia Phillip spent 20 years in industry between pharmaceuticals and consulting where he held roles in Sales, Marketing, HR, and General Management. He holds a BSc and a PhD in Zoology from Queen's University, Belfast and Postgraduate Diplomas in Executive Coaching and Advanced Executive Coaching from UCD Smurfit Graduate Business School.
A former Ireland rugby captain, Phillip is an experienced strategic leader, executive board member and an active speaker and consultant in executive leadership, 1:1 business/executive coaching, team coaching and change and he cites Gestalt psychology as a major influence on his work.
Topics
Phillip's particular interest is in helping leaders to identify the leader they want to be, achieve clarity on the personal change required, to lead with authenticity and in a way that engages hearts and minds. Phillip has spoken extensively on Leadership, Empathic Leadership, Personal Change, Immunity to Change and Coaching Skills for Leaders.
Some recent speaking engagements include; Retail Empathy – Leadership in Retail for Retail Excellence Ireland; Mentoring for Partners in Professional Services; Coaching Skills for Leaders in Pharmaceuticals; Leadership for Senior Prison Officers; Personal Change for the Women in Business Network; A Personal Coaching Journey for EMCC Ireland; Coaching Skills for Leaders in Communications and Leadership in the Public Sector for Department of Finance.
Testimonials
"Phillip delivered a very powerful talk to the Arthur Cox partners on coaching and mentoring. He did so expertly, relating clearly to the audience, explaining eloquently and simply his message and being open and honest in his approach. After the event, several people mentioned the clarity of understanding they had received from hearing him speak. The unusual combinations of Phillip's sporting career, leadership ability and academic management, and of course his charismatic and engaging personality, are invaluable. He has the ability to convert and also inspire the sceptical."
– Ruth Dalton, HR Director
"Phillip spoke at the REI Retail Symposium which was attended by over 250 of the top owner/managers/team leaders in the Irish retail industry. Philip brought his wealth of experience and knowledge to demonstrate how the principles of trust and effective communication impact on all types of teams including retail. In a practical and entertaining session, he showed how to leverage both in order to maximise the performance of our store teams and increase customer engagement. A truly inspirational and engaging delivery."
– Retail Excellence Ireland
" Phillip delivered a powerful address to delegates at NAPD Conference 2015 on Leading from the Front. He has a powerful presence, an easy delivery style, built up a great rapport with his audience and interacted strategically with them at various stages during his address. Delegates were delighted with his presentation and full of praise for the content. Very human, inspirational, great empathy, incisive were words that described Philip on the day. He contributed to a great conference"
– Clive Byrne, Director National Association of Principals and Deputy Principals (NAPD)
To book Phillip Matthews for your event, contact Front Row Speakers on +353 1 485 3991 or email

[email protected]