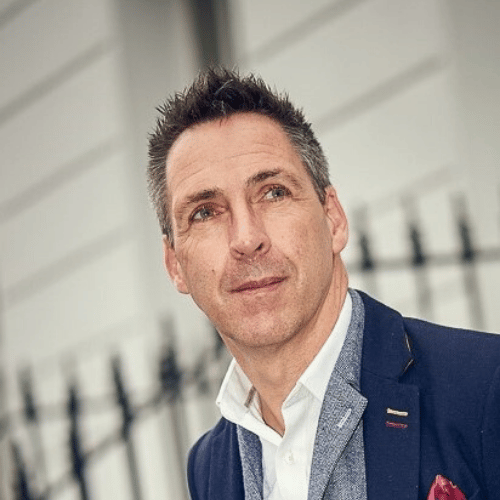 Peter Turley
Described as "a simply remarkable thinker with a rare ability to inspire," Peter Turley shows organisations how to investigate, evaluate and rethink their ideas of success, in the context of the modern business environment. From his earliest career, Peter discovered a knack of making processes better, of reinventing the wheel to make a greater impact, and pushing results. He knows that what truly drives success and increases profits is not about mastering the 'marketing buzz words' of the week, but how well you genuinely – and authentically – connect with people, making it easy for them to buy your product or service.
In his game-changing talks, Peter constantly surprises and captivates his audience by showing them how to catch the 'purple goldfish' – that elusive idea of something out of the ordinary that gets you noticed, remembered and loved. His passion for better thinking creates high energy presentations that turns the fear of creative thinking into must-do excitement. From standing ovations, top speaker ratings, to setting the Twitter event hashtag on fire, Peter delivers. His high energy presentations – using bold images, fresh ideas and success stories to energise audiences – inspire people to set old ideas and fear aside and use these new tools to achieve real, measurable results.
Peter is the recipient of numerous business awards, including the National Enterprise Award for Innovation, TAB Ireland Business Speaker of the Year, and All-Ireland Business 'All-Star' for Sales Innovation. Last year he won the only Irish Professional Speaking Association Competition, the aptly named "PSA Speaker Factor Ireland" and went on to represent Ireland at the Grand Final against 15 other regional winners in the UK, coming 3rd overall. Now, having trained and coached this year's Speaker Factor Ireland winner, he aims to be part of another podium placing for Ireland and bring his experiences of presenting at the very highest levels to all of his talks, to make each attendee the very best that they can be.
Topics
Stand Up and Stand Out
"This is the way we have always done it" has become a brick wall in many companies, blocking innovation, experimentation and, in most cases, any chance of standing out from the crowd. In the age-old question – how do you stand out from the crowd? – Peter Turley brings an innovative new answer. You reinvent the wheel. And the great news is it's easier than it sounds.
Communication that Sells
Creative Communication is not a talent; it's a skill that can be learned. Empowering your staff by adding strengths to their existing natural abilities, and improving their comfort for creativity and innovation, leads to increased productivity and profit. Peter Turley's proven methods provide a deliberate, systematic process that will drive innovative thinking, and enable businesses to stand out from the crowd.
Leading for Success
If your business was on the Fortune 500 list, how secure would you feel about your future Confident? You'd be wrong. In the past 15 years, 52% of the Fortune 500 companies have disappeared. Why? Peter believes because these businesses failed to adapt to the ever-changing, ever-modernising business environment. They failed to reinvent the wheel. Creating an innovative company-wide culture, rather than standard sales department-only training, Peter Turley has turned the traditional paradigm of sales on its head. He doesn't just get your business to think outside of the box; he shows you how to remove the box.
Testimonials
"Brilliant, funny, purposeful" – Garrett Clifford, Strategic New Business Sales Director, WORLDPAY.
"Engaging, enlightening, motivating" – Dirk J Starz, Cloud Applications Sales Leader, ORACLE.
"Life changing – The daily structures and processes Peter put in place have literally changed the lives of employees in our company for the better, especially when it comes to time management and sales targets." –  Justin Twiddy, Managing Director, GRENKE Leasing.
"I found Peter's presentation and business coaching absolutely invaluable to me throughout on our journey from Start-Up to listing on NASDAQ." – Peter O'Brien, Senior Vice President, Artelo Biosciences
"Peter – you were fantastic – some great messages told in a hilarious way that I will always remember." – Lisa Dillon, Vice President, Microsoft Digital Sales EMEA
"In 10+ Years, 40+ Conferences and 320+ Speakers, hands down one of our Very Best Keynote Addresses has been from Peter. If you want a performance that gives your audience an incredible message and a super experience, look no further." – Bob Perkins, Founder + Chairman, Digital Sales World and the American Association of Inside Sales Professionals
To book Peter Turley for your event, contact Front Row Speakers on +353 1 485 3991 or email welcome@frontrowspeakers.com