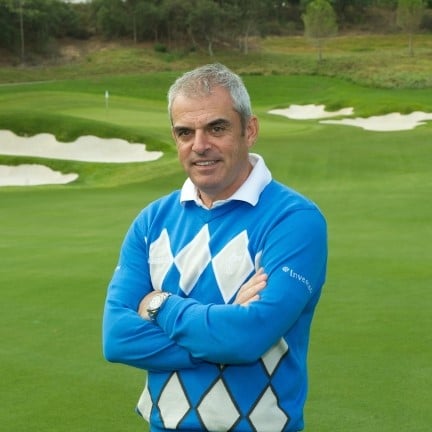 Paul McGinley
Professional Golfer and Ryder Cup Winning Captain
Paul McGinley is a professional golfer who has won four events on the European tour.
Born in Dublin, Paul originally played Gaelic football until he broke his kneecap at the age of 18, ending his footballing career but turning his focus to golf. After entering amateur championships, Paul was selected for the 1991 Britain and Ireland Walker Cup team, and turned professional in late 1991, joining the European Tour a year later in 1992, aged 25.
In 1996, McGinley won his first title on the European Tour at the 1996 Hohe Brucke Open, and in 1997 he won the World Cup of Golf for Ireland with Padraig Harrington. He has also been on winning teams for the Seve Trophy, World Cup and the Royal Trophy, and in 2009 and 2011 led the Britain and Ireland team to victory as captain in the Vivendi Trophy.
However, it is his Ryder Cup appearances that have cemented his presence as one of Britain's best golfers. He made three consecutive and victorious Ryder Cup appearances in 2002, 2004 and 2006, with his ten-foot putt on the 18th hole in his match against Jim Furyk winning the 2002 Ryder Cup for Europe. Paul is the first European golfer to be a victorious in every one of his 3 appearances.
In the 2010, McGinley acted as Vice Captain to Colin Montgomerie, and again to Jose Maria Olazabal in 2012. In the following year, Paul was announced as the Europe team captain for the 2014 Ryder Cup – the first Irishman to do so. His team went on to beat the USA.
Paul has always been passionate about playing as a part of a team. On his team's victory over the USA in 2014 he commented, 'I'm very proud of every one of those players. I couldn't have asked for an ounce more from them.' Paul also continues to shape the European Tour as a member of the Tournament Committee.
Paul lives with his former golf professional wife, Alison, with their 3 children in Sunningdale.
To book Professional Golfer and Ryder Cup Winning Captain Paul McGinley for your event, contact Front Row Speakers on +353 1 485 3991 or email welcome@frontrowspeakers.com