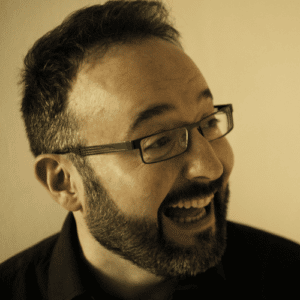 Paddy Cullivan
MC, Speaker, Comedian & Multi-Platform Entertainer
Paddy Cullivan is an in-demand MC, speaker, and comic entertainer, renowned for providing multi-platform entertainment and MC work for some of the best and most cutting edge companies and special events around the world. Uniquely, he provides a bespoke service, creating original content for every client (as opposed to a generic set that can be used anywhere) so that attendees feel they are seeing something special and exclusive to their interests. This can include a comedy performance with audio-visual slide-show, specially composed song and superbly-written and delivered commentary between items that elevates the event into a different sphere. He is also an expert chair for panels or one-on-one interviews.
Clients love Paddy's positive attitude, creativity, clear-spoken delivery and the fact he's a stickler for keeping things on-schedule – it has resulted in repeat bookings in every case.
Paddy is a dual American and Irish citizen and an NCAD Graphic Design and Art History Graduate who went into the music business, becoming the leader of the Camembert Quartet, now in it's 10th year as the Late Late Show House Band. In another role he contributed sketches to 10 seasons of Oliver Callan's political satire 'Callan's Kicks' and worked for a decade as a host and contributor to David McWilliams' 'Leviathan Political Cabaret' and 'Kilkenomics'.
Paddy's one-man multimedia shows 'Solutionism', 'The Joy of Brex', and his historical entertainments 'The 10 Dark Secrets of the Irish Revolution' and 'The 10 Dark Secrets of 1798' have been sell-out successes at venues and festivals worldwide and he presents and chairs panels in his live political variety show 'It's Not the Cuban Missile Crisis'. All these unique skills he brings to bear at events large and small.
Topics
Being an MC and Host
Specially-written comedic / inspirational powerpoints for clients
Specially composed song in relation to an event

Chairing Panels and One-on-One Interviews

Solo Piano gig pre-or-post event

Band playing, presentation of awards to winners on stage
Testimonials
MEFFY MOBILE APP AWARDS – Paddy provided MC, composed special song 'It's the Meffys', satirical powerpoint 'Mobile Apps since the Stone Age' and the band provided Music Stings and post-awards dancing: "Thanks again for everything – you did an amazing job. I keep getting compliments on how great the entertainment was! And the song was HILARIOUS!" – Rimma Perelmuter, Co-Founder, MEF
MIND OVER MATTER (The Morrison Hotel, 2017) – Paddy chaired panels between design creatives and MC-d the event: "We had incredible feedback on the night and especially your chairing of the panel, it was a wonderful balance. It has resulted in a lot of creatives talking about mental health which is exactly what we wanted. I think the format worked really well, you warmed the audience up perfectly. It was spot on!" – Kym Mackenzie-Doyle, President Emeritus, Institute of Designers of Ireland
ABBVIE AWARDS (Newpark Hotel Kilkenny 2019) – Paddy did a presentation with fake and funny pharmaceuticals in development, also used his design skills to put the boss in hilarious pictorial situations – turning Todd Manning into 'The Toddfather', a pastiche of 'The Godfather'.
"Paddy – thanks again for Thursday night. We were delighted and the feedback we've been receiving has been great. The intro went down a storm and the live stings went down really well. Todd (Manning – head of Abbvie Ireland) was asking for the images you did of him – so its definitely been a big hit! You've been a real pleasure to work with, so a massive thank you" – Audrey Keller, External Affairs Co-Ordinator, Abbvie
BANK OF IRELAND AWARDS (Convention Centre Dublin 2019) – Paddy provided MC, Satirical Powerpoint Intro and Music Stings. "I would like to extend a massive thank you to you and the band for last night. Everyone had an excellent night, the feedback has been fab and the evening could not have run smoother. Thank you so much for all your help." – Sophie Boisson, Events and Engagement Manager – Bank of Ireland Dublin Central
"I have worked with Paddy Cullivan on wide mix of London events, from small scale up to 20,000 people in Trafalgar Square. In all settings Paddy brings professionalism, creativity and intelligence. He has a very special ability to read lead a room with sensitivity, warmth and fun"  – Gary Dunne, Director of Culture, London Irish Centre
To book MC, Speaker, Comedian & Multi-Platform Entertainer Paddy for your event, contact Front Row Speakers on +353 1 485 3991 or email welcome@frontrowspeakers.com