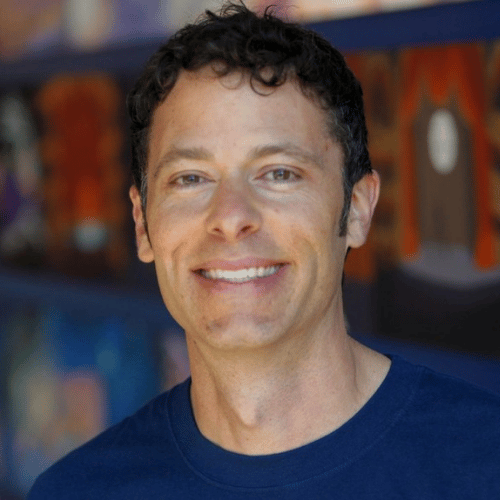 Matthew Luhn
Pixar Creator and Keynote Speaker
Matthew Luhn is an accomplished storyteller, instructor, keynote speaker, and story consultant, with over 20 years' experience creating stories and characters at Pixar Animation Studios. Alongside his story work at Pixar, Matthew also trains Fortune 500 "companies, entrepreneurs, and other professionals how to craft and tell stories that bridge the gap between business and heart to build stronger brands and business communication."
Matthew's most recent clients include Adidas, Facebook, BBC, Microsoft, Sony, Warner Brothers, Apple, Disney, Google, Clorox and many more.
Matthew's story credits include Toy Story, Toy Story 2, Toy Story 3, Monsters Inc., Monsters University, Finding Nemo, UP, Cars, Ratatouille and other films currently in development.
With over 20 years experience creating and developing dozens of films, TV shows, and video games, at Pixar, The Simpsons, ILM, and other studios, Matthew Luhn knows what it takes to create memorable stories with enduring characters. From filmmaking to business, Matthew's story talks are beneficial to anybody wanting to improve their story skills, or learn the persuasion of great storytelling. In Matthew's story seminar, he will share his process for creating new ideas and characters, how to develop great stories and story structure, and how to realize your story ideas from script to storyboards to finished product.
Topics
Dominic is an expert in creation, unique storytelling, technology and the arts. He is a highly skilled public speaker and has previously spoken at TEDx talk seminars on the subject of creativity and design.
Testimonials
"Working with Matthew has been great! Whether running a workshop or speaking at Dreamforce, his brainstorming techniques and boundless creativity have inspired many at Salesforce. With his guidance, we have found fun new ways to tell a richer and more meaningful story. Matthew's journey and methods for creating story and memorable characters continue to resonate with me. I look forward to working with him again!" – Domenique Sillet Buxton, Senior Creative Director at Saleforce
To book Pixar Creator and Keynote Speaker Matthew Luhn for your event, contact Front Row Speakers on +353 1 485 3991 or email welcome@frontrowspeakers.com