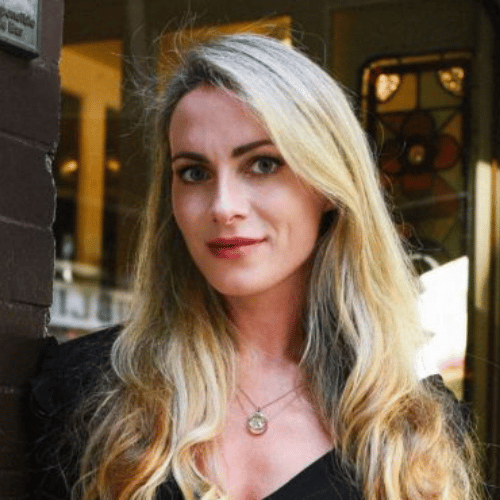 Louize Carroll
Consultant Psychologist & Member of The Blizzards Band
Louize Carroll is one of the most celebrated, in-demand, dynamic and well-known consultant psychologists in Ireland, bringing potent and dynamic change to individuals, leaders and by consequence, to entire teams and organisations. A licensed social and business psychologist and therapist, Louize has over 15 years of training and experience working as both a consultant and a mental health professional in multiple industries from the corporate and private industries, to the creative industries, to the not-for-profit sector.
Louize has a unique talent for communicating the most complex and sensitive of topics in a way that is simple and inspiring, meticulously coherent, sensitive and considerate, yet appropriately challenging and grounding – always with individual development, insight, transformation and growth in mind.
To address the suicide crisis and the lack of effective mental health care in Ireland, Louize spent several years working as a purveyor for mental health systems change through her work in Jigsaw, leveraging government, national and international stakeholders to establish a brand new system of care for young people and young adults. Louize is also an expert in advising on psychological aspects of criminal investigations as well as child protection cases which concern addiction and abuse.
Louize provides consultancy, support and therapeutic intervention for a range of clients globally, working with a broad range of issues including leadership organisational culture, professional and personal relationship difficulties, anxiety, trauma, and work problems. She also provides mental health consultancy for the film and tv industry, advising on the careful and appropriate portrayal of mental health on screen.
Louize CREATED, DEVELOPED AND DELIVERED THE CONCEPT OF PRISM, an online therapy platform with a unique and proprietary algorithm that matches you to the best therapist for you, through a meta-analysis of what treatments and therapies work best with different client problems, what therapist and therapist style, approach and specialty might be best suited to a specific client and how the client's articulated needs captured by the intake assessment can best be matched by the PRISM therapists.
Louize is Co-Founder of The Blink Effect, a leadership programme created, developed and produced with her psychological and leadership expertise in partnership with mindfulness expert and international transformation expert Niall Breslin, neuroscientist, doctor and founder of Actualise, Michael Keane and accomplished business consultant, Paula McLoughlin who spent many years as one of the most successful partners in Accenture and EY, and on a UK government Think Tank. The Blink Effect combines all of their differing expertise in a unique way for the purposes of training leaders as well as aspiring leaders in how to invest in their own relationship with themselves in order to more efficiently, more productively and more compassionately influence others.
Louize speaks about how the ways in which we cope in a rapidly changing landscape, and the ways in which we see the world, affects the choices we make, influences the relationships we make or break and has a fundamental impact on our wellbeing. With a refreshing directness, she speaks about how we can better take care of our hearts and minds so that we can cope better (with almost anything) in what is an illuminating, honest and stimulating talk about our emotional health and wellbeing. In addition, Louize is a regular psychology expert media contributor for The Irish Times, The Irish Independent, RTE Radio 1 and Today FM's Mind Yourself Now with Dermot & Dave. As well to that, Louize is the bass player in award winning band, The Blizzards.
Topics:
Emotional Resilience
Stress Management
Overcoming Adversity
Psychology
Mental Health
Psychological Safety
Neuroscience
Mindfulness
Psychological Flexibility
The Art of Coping
How To Stay Grounded, When The Ground Is Moving
The Art of Navigating Relationships
The Art of Creativity
Testimonials
"Louize has an unusual combination of gifts seen through her ability to hold attention and command respect from a large group of leaders whilst also managing to challenge their preconceived ideas, beliefs and behaviours in favour of more aware, intentional and emotionally intelligent responses. It was a pleasure to have her in with our team" – Maples Financial Services
"Louize was absolutely amazing and the feedback was phenomenal from the event. She's a lovely warm and very knowledgeable lady who delivered an open and honest presentation with some great take-aways. Louize talked to all who wanted to meet her which is unusual in my experience of event speakers. She has a great ability to connect and empathise. Feedback included it being the best event ever and that it should have been a full day event. Personally speaking she was excellent to work with and a pleasure to have with us in Donegal last night." – Donegal Local Enterprise 
To book Consultant Psychologist Louize Carroll for your event, contact Front Row Speakers on +353 1 485 3991 or email welcome@frontrowspeakers.com