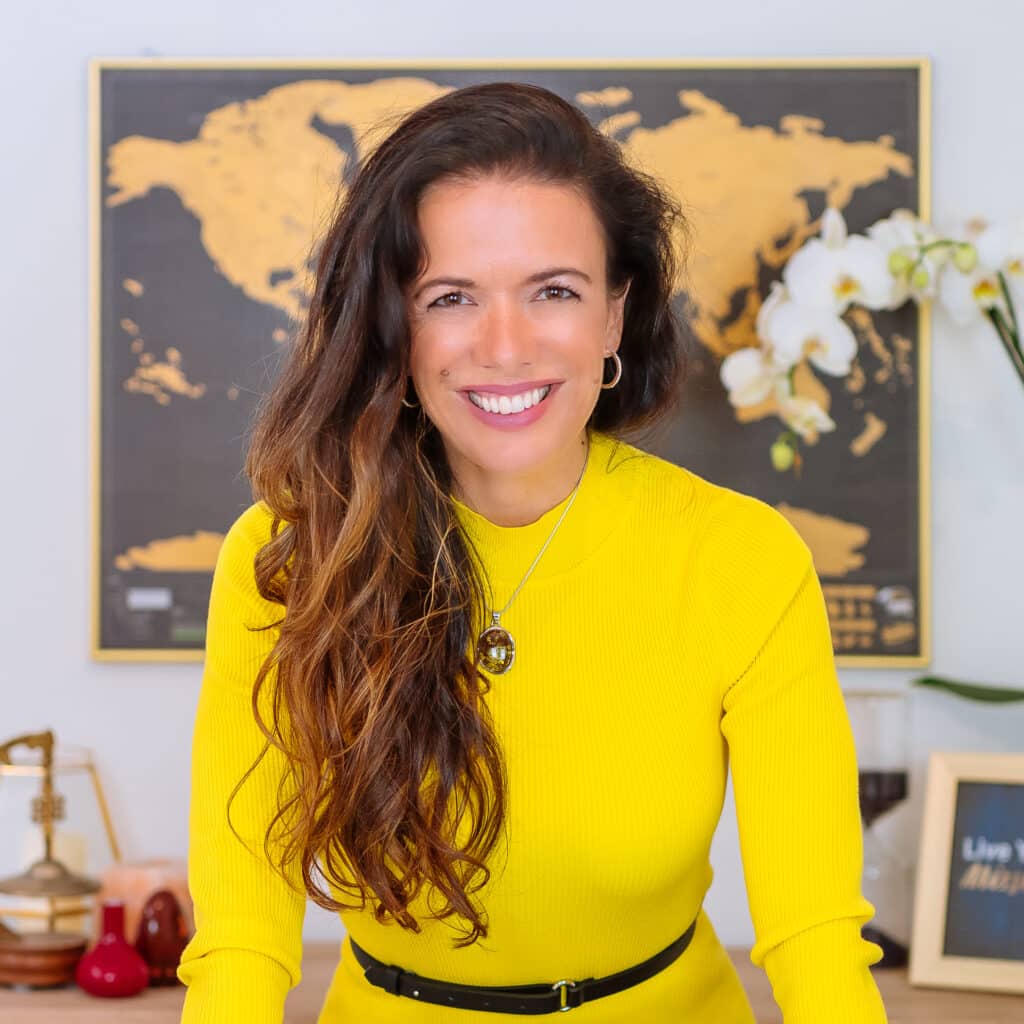 Gaia Ferreira
International Speaker, Author & Mentor
International speaker Gaia Ferreira is an online and offline, author, and mentor who specialises in helping under-achieving entrepreneurs reach their full potential. International speaker Gaia has helped numerous executives and their teams, improve their performance, well-being, and personal fulfillment by tapping into their Total Intelligence™.
Gaia mentors and speaks in 4 languages.  From Executive to Entrepreneur herself, Gaia, a single mom of 3, has figured out how to balance life and work responsibilities while achieving personal goals and improving her health, performance and fulfillment.
With over 5000 hours of experience as a mentor and trainer, international speaker Gaia focuses on understanding the effects nutrition, lifestyle, thoughts and beliefs have had on her clients' present status so as to epigenetically redesign their future into the guaranteed achievement of extraordinary personal and business success and fulfillment.
She's shared the stage with Brian Tracey, delivered her signature 'Journey to Genius' speech at a Tony Robbins training event, hosted her own TV show in Spain, has been featured in print and digital media internationally (Montreal Gazette, The Globe & Mail, El Pais, Hola, Go Wild) and came in second in Ireland's national speaker competition.
Topics
Personal Performance for Corporate Results
Redefining Your Corporate Culture
Heart-Based Leadership
Purpose-Driven Productivity
360º Well-Being For Success
Self-Driven Motivation
Work-Life Balance
Personal Identity and Self-Actualization
Personal Fulfillment
Epigenetic Transformation
Popular Speeches by International Speaker Gaia Ferreira
Leader Meter – Discovering the steps to becoming an evolved Leader Keynote ideal for executive teams: Leadership is not a rank, it's a responsibility.  Your success as a Leader depends entirely on how you show up and the influence you have on those around you.  Find out the role your gifts and challenges have played on your ability to lead.  No matter where you rank on the Leader-meter, after this Keynote, you'll know how to evolve into a Titan of leadership.
Guarantee your growth by bending time. Keynote for all levels of decision makers: Time is our most precious resource that gifts us just 24 hours each day regardless of race, wealth or creed.  When busyness and productivity are so often confused, what's the difference between those who complain of never having enough time and those who seem to achieve so much given the same resource? This talk will help you and your team, drastically improve what can be achieved in a day, a quarter, and a year by redefining your relationship to time from a value-based system and understanding an easy-to follow process that bends time in favour of your results.
Journey Back to your Genius: Keynote for all levels: How has what you think, say and do held you back from your true success? Consider, for a moment, that your thoughts, words and actions are not about who you are, but instead, who you think you are not. This paradigm-shifting keynote will leave you questioning what you think you know about yourself and open you up to an entirely new possibility for what you can achieve by showing you how to find your true genius identity and create more joy, fulfillment and connection to yourself, and the world around you.
Titan time: Breaking Through Your Personal Glass Ceiling Keynote for all levels: All conflict and stress can be solved with Titan Time. Your personal glass ceiling is the result of everything you've ever heard, learned or experienced in your life. You can't break it without Titan Time. Implementing Titan Time can be done almost instantly, consistently, and permanently with little effort. Results may include increased joy, better earnings, permanent calm, better collaboration between team members and a stronger personal impact in the world. It's how you become a Titan of success.
Succeed with Power Routines Keynote for all levels: Your routines determine your life. When you understand why you do what you do, you can get more out of the routines you keep. This talk couples your unique "why" to the top routines kept by top performers, so you can be pulled to the actions that create a top performer in all areas of your life that is fulfilled, calm, healthy, and inspired to achieve.
How to be a Happy Millionaire Keynote for all levels: Want the recipe to true success? This keynote holds the formula for you. Designed for an audience at any step of their path to success, this keynote lets you understand and craft key elements to your personal fulfillment and the heart-centered influence required to move others to action from a place of shared vision, aligned values and mutual trust.
DC2 Formula – Stop Networking Start Connecting Keynote for all levels: Business cards mean nothing. Want to achieve more, learn faster and avoid costly mistakes? It's all about who you surround yourself with. After all, your circle of influence is only as powerful as your ability to connect on a personal level to those who can help you grow. The DC2 Formula is an easy, fun and practical way to create stronger, deeper connections to the people who matter to your success.
Tap into your Total Intelligence™ Training for all levels: You and Your Mind – Learn to think differently to instantly improve the decision-making, problem-solving and critical-thinking you bring to your success, so that you can double your income, have more free time, and enjoy more of what matters to you without second-guessing yourself.
Testimonials
"Gaia is a wonderful coach. She is very skilled and knows exactly what to say to help you grow and surpass yourself. She taught me some great strategies that led to great success. I recommend her very warmly." – Rintske Bosma, High Performance Trainer & Creator of Paradigm Shift Method
"Gaia has been an awesome coach and I would highly recommend her. Not only has she helped me to find clarity on my goals and what I would like to achieve in both my personal and business life, she has also given me valuable resourceful tools and structure in order to achieve goals, and a great reading list too. Thank you Gaia I'm grateful " – Serena Bolton, Professional Corporate, Portrait, Headshot and Personal Branding Photographer
"During the time Gaia coached me, I achieved major breakthroughs in several areas of my life. Her insights and guidance were always very helpful and I always finished my coaching sessions amazed about the new perspectives and strategies I was given. In retrospective it was a great election and was worth my time/money/effort" – Elias Calva, Self driving cars
"Wow- where do I begin. Gaia was an outstanding coach. Her programme, mentorship and coaching abilities are second to none. It was the best money that I have ever invested into my personal development and couldn't recommend her programme more. If you want to achieve your goals, focus on building a high performing career and develop your leadership skills then this programme is for you. You won't regret it. Thank you Gaia for such an amazing journey and helping me smash all my 2019 goals." – Hollie Simmonds, Regional Sales Manager, EMEA at Facebook
To book International Speaker Gaia Ferreira for your event, contact Front Row Speakers on +353 1 485 3991 or email welcome@frontrowspeakers.com