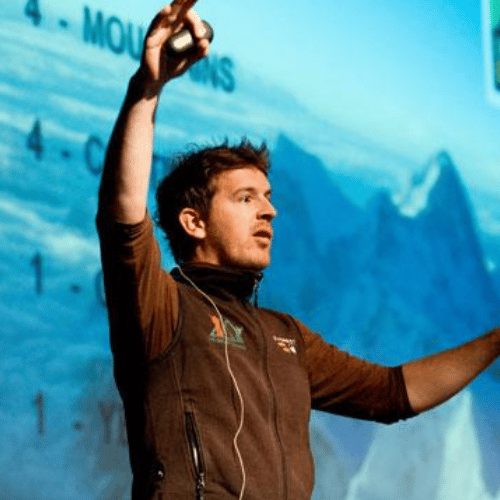 Ian Taylor
Adventurer & Motivational Speaker
On May 23, 2008,  Adventure and Motivational Speaker Ian Taylor became the youngest Irishman to stand on the top of the world. In June 2007 Ian and his friend set out climbing  four mountains on four continents in one year with Mount Everest being the final climb. Before this, he had only climbed one mountain over 5,000m. Ian started raising  €70,000 to build the Mt. Everest primary school in Uganda with Irish charity Fields of Life.
From + 40c to – 40c Ian braved his own fears, demons and the mountains. The Adventure and Motivational Speaker saved a fellow climbers life. Four months after being told he wasn't the right material for Everest by two professionals, he successfully made it to the summit of Mount Everest. This is a true story of teamwork, drive and ultimately success.
Ian has developed a multi-million dollar business from scratch. He is also involved in business development and is a charity Ambassador. Ian has over twenty years of experience climbing Mount Everest to the top, Kilimanjaro 35+ times and leading over 150 treks and expeditions around the world. The Adventurer is the president of the US board of directors for the charity Fields of Life. This charity involves helping raise awareness of the Mount Everest school and all Fields of Life's activities in East Africa.
Based in the US and Ireland, Ian has years of experience of managing teams in a business environment. He also leads and trains teams for mountain expeditions around the world and does so with great success. Ian has climbed Kilimanjaro 18 times now, aiming for 50 summits, he has lead hundreds of people to reach their goals in the mountains. A team Ian lead to Kilimanjaro in September 2011, released a book about their journey.
Ian was involved with the Ireland to Everest 2012 ascent of Mt. Everest. Ian used his skills to help others achieve their dreams on Everest. The Adventure and Motivational Speaker manages his own trekking company training teams for treks around the world. Ian is a team leader and motivational and leisure consultant. Ian has plans to set a new route to the South Pole, film a feature film and raise money for schools in Gaza.
Topics
Everest – "A Summit Calling"
Following Passion to Succeed
Drives Activity
Everest Isn't Big Enough Anymore
New Roads; 'How to Change Your Life'
Testimonials
"Ian Taylor gave a motivational talk at a recent company meeting. It was nothing short of inspiring! Ian clearly did his homework before our meeting and honed his message to some of the specifics of our company, his messages resonated with the audience and left them inspired and energized. Ian showed us how ordinary people were out there accomplishing extraordinary things through sheer motivation and determination. His story was captivating and I would have no hesitation recommending Ian for any future events." – Sharon Kenny, Sanofi
"WOW!! Ian was an amazing speaker and left everyone gasping for more. He has an uncanny ability to draw you into his stories as if you were there. He personalized his content so that his speech related to our audience. Ian leaves you with more than just a message, but with a renewed sense of energy. I would highly recommend Ian Taylor to any group that is looking to learn, laugh, get energized and ready to take on the world!" – Elaine Barry, Sports Lecturer & Project Manager, Limerick City Sports Partnership
"Ian Taylor spoke as a motivational speaker at our recent conference. His story was inspirational, impactful and thought provoking. Our delegates thoroughly enjoyed his presentation." – Grace Kavanagh, Events Manager, Irish Taxation Institute
"I was involved in coaching an under 18 hurling team,the group had won nothing underage and were not regarded as contenders for the championship.I asked Ian to help out as both a motivational speaker and from a physical preparation point of view.Ian was very professional and made an excellent impression on the team,we ended up winning the Championship against the odds,we feel Ian's approach and advice was instrumental in winning. The following year, I was involved with our Senior team, who again had not won a Championship in 31 years,we approached Ian at the start of the year in relation to team mental and physical preparation, his advice and help was invaluable and we ended up winning again that year against the odds. Ian's advice in how to mentally and physically prepare a team for a serious challenge, was excellent and a big factor in our wins." – Tom McNamara, Clare Hurling
"Ian was guest motivational speaker in our annual partner event for 2012. Our partners found Ian's presentation extremely interesting, and the formal feedback received scored him very high. Ian's message was linked subtly to our theme of the day and was extremely impactful. This would not have been possible if Ian hadn't taken the time out to meet with us before hand as well as attend the full event in his own time to get an idea for the people and the organisation. Ian is very personable but professional as well and I would strongly recommend Ian for similar events." – Owen McAlister, Cisco Ireland 
To book Adventurer & Motivational Speaker Ian Taylor for your event, contact Front Row Speakers on +353 1 485 3991 or email welcome@frontrowspeakers.com