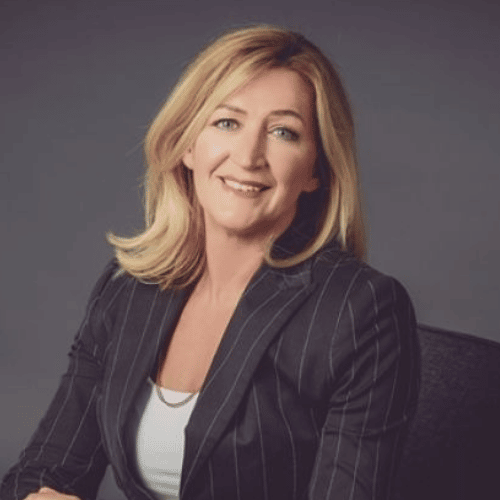 Grainne Kelly
CEO & Founder of Bubblebum
Grainne Kelly is the Inventor, Founder and CEO of BubbleBum UK Ltd, the manufacturer of the world's first inflatable car booster seat which has revolutionised the child travel industry.
A multi-award winning entrepreneur, Grainne founded BubbleBum in December 2009 and the company now exports to 27 countries globally and the BubbleBum is stocked by major retailers such as Amazon, Halfords, Target, Migros and Boots.
Within months of setting up the business, Grainne, her husband and two sons Fintan and Lorcan left their home in Northern Ireland to live in the US with the aim of breaking into the US market.
Her family immersed themselves in the culture in order to understand the market and get the product ready for certification to US standards testing and certification. Grainne qualified as a National Child Passenger Safety Technician and built the necessary relationships to launch the product into the US market. The product won the Insurance Institute for Highway Safety Best Bet Booster 2011, which resulted in major media exposure including the front page of USA Today and The Wall Street Journal. It has continued to win many awards over the years including the latest Family Choice Award, Parent Choice Award, Made for Mums Award and National Parenting Product Award.
Since setting up the business, her husband has become the COO and her two sons have been involved with the design of all BubbleBum products, as well as being part of promotional literature and advertising. Grainne appeared on Dragons Den in 2014 and famously turned down an offer from the dragons.
Grainne left school to study art and maths but veered into the construction industry, and then into commercial radio, followed by a long time in the travel industry. She has won several awards including Belfast Telegraph Business Woman of the Year, Ulster Bank All Ireland Business Achievers Award, Wonga Future 50 Disruptors Award, Runner Up Amazon Growing Business Awards as well as a finalist in the Ernst & Young Entrepreneur of the Year, and the European Business Awards not to mention several other awards including her most recent win in 2018 for British American Business – Woman in Business Award in the Transatlantic Growth Awards. In 2019 Grainne was invited to join the UK Prime Minister's Counsel for Entrepreneurs.
Grainne's story demonstrates the role of resilience and perseverance as an entrepreneur, being bold and the importance of honouring your integrity. She looks at how to start and grow a global business and the lessons she has learnt along the way. Grainne tells her story in a passionate manner, whilst hitting home with her key messages. She captures the attention of her audience from the start and leaves them feeling inspired and that anyone can do it with hard work and determination.
Topics
 Motivational / Inspirational
Women in Business
Entrepreneur
Product Innovation
Start Up & Growing a Global Business
Testimonials
"We wanted a speaker for our annual conference that understood our industry and whose presentation was likely to be both relevant and resonate with our audience. We sourced Grainne Kelly through Front Row Speakers and found them to be thoroughly professional and efficient in all our dealings with them. Grainne turned out to be a perfect fit for our conference theme and her natural wit and conversational storytelling style was a hit with all delegates." 
To book CEO & Founder of Bubblebum Grainne Kelly for your event, contact Front Row Speakers on +353 1 485 3991 or email welcome@frontrowspeakers.com.