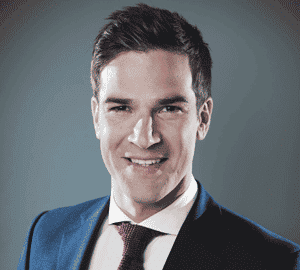 Gethin Jones
Cardiff born Gethin is one of the UK's best loved TV presenters and after being in the USA as the solo host for "Dancing with The Stars: All Access" he is back!
Gethin has a whole array of talents, interests and achievements.
Here is a short breakdown:
– Degree in Economic and Geography
– Leader of three County orchestras, with his piano and violin skills
– Professional rugby player and represented Lancaster and went for trials for Sale RFC
– Presenter of Blue Peter for 3 and a half years; taking on numerous challenges, the most impressive was becoming the first civilian to finish the Royal Marine Commando 30 mile Yomp – finished in 8hrs 20 mins….in about 7 pieces!
– Semi-finalist on BBC1's Strictly Come Dancing 2007
– Presenter of Police Camera Action, 71 Degrees North, The One Show for a week (to name just a few)
– Hosted the Golden Globes Red Carpet
– The face of Holland & Barrett
– Speedo Ambassador 2015
Topics
Gethin is an established host and has presented a huge array of events for Royal Mail, Pure Beauty Awards for the past 2 consecutive years, England Rugby League events and many more.