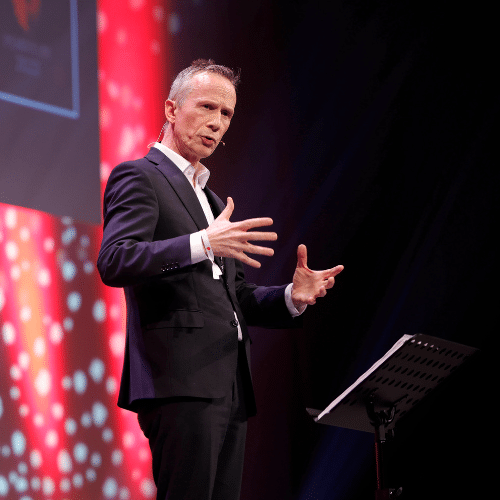 Gerry Duffy
Gerry Duffy is a professional speaker and writer on 'motivation' and 'goal setting', Gerry Duffy has a sporting CV which has seen him complete some of the hardest endurance challenges on the planet.
At the age of 27, (1995) Gerry found himself stuck in a rut. He was bored with life and his physical condition was a symptom of how he was living his life back then. Gerry was 50lbs heavier and was an addicted smoker. He wasn't happy, but every day he still did the same, so he got the same.
Until one day Gerry decided to take responsibility for himself. He made some changes, took up running, created and embraced a healthier lifestyle and as a result, got much fitter both physically and mentally. At that time Gerry was in a less than stimulating job, but he quickly realised it wasn't the job that was the problem- it was himself. It was his attitude to it and his lack of ambition for it. As soon as Gerry decided to change, everything started to change.
Gerry realised when he did more, he started to get more. He got much fitter, healthier, and more educated. He also got ambitious in a career sense. Gerry when looking back now realises that the universe wants us to have what we want. But it will only give it to us if we stretch for it. He continued to stretch himself in other areas and by applying some straightforward strategies he began to achieve things at much higher levels than before. In 2003 Gerry opened his own business and two years later, he overcame his greatest fear- Public Speaking. That was a small key that years later, would open a big door.
Since then, Gerry has run 32 marathons in 32 days and completed a number of other endurance adventures. He has been hired to speak to corporate audiences all over the world, created a speaking and training business (goal setting, leadership, motivation, mind-set techniques) and written two best-selling books.
Topics
Gerry Duffy is an accomplished motivational keynote speaker and goal setting coach. Since completing his first sporting challenge "32 Marathons in 32 Days" Gerry Duffy has been speaking at events to address the workforces and clients of companies such as Facebook, Google, Bank of America, Standard Life and Coca Cola. His inspirational story provides a personal insight into how he achieves challenges that people say cannot be done.
High Performance
The Principles of Goal Setting
Mindset and Attitude
Motivation
Healthy Lifestyle
Leadership Development
Testimonials
"The event went great and the feedback on Gerry was excellent. Gerry was warm and engaging and really connected with the audience as he shared so much of his personal experience as well as providing people some practical and useable advice on how to manage change and stretch themselves." – Edel Tryse, Symantec
"A truly uplifting and motivating presentation that had individual and personal relevance to everyone present on the day." – Declan Devine, Pharmed Holdings Group
"At Facebook, we pride ourselves on attracting top quality speakers from a wide range of disciplines. The perspective which they bring really helps our teams to understand and appreciate how others overcome challenges in their own careers. Gerry's talk was one of the best I have seen and he has pushed us all to rethink our limits." – Colm Long, Director Online Sales Operations, Facebook
"Gerry delivery style is warm, genuine and above all humble. He has a rare talent to make extraordinary achievements sound very ordinary. The entire team got a huge amount from the presentation and the energy in the room after he left was amazing." -Nigel Monaghan, Head of Sales Standard Life
"Gerry's motivational talk was amazing; in fact it was the highlight of the day. I am getting emails from people since Friday, stating it was the best motivational speech they have ever heard. From a personal standpoint it has me majorly pumped to achieve greater things in my working career and personal life." – John Russell, MD Oakley, Ireland
Awards
1. Three Ironman Distance Triathlons (2.4 Mile Swim, 112 Mile Cycle, 26.2 mile run)
2. One DOUBLE Iron Distance Triathlon (4.8 mile swim, 224 mile cycle, 52.4 mile run)
3. In the summer of 2010 along with Ken Whitelaw, Gerry ran 32 Marathons in just 32 Days. In the process over €500,000 was raised for Irish charities
4. One DECA Iron Distance Triathlon (24 Mile Swim, 1160 mile cycle, 262 mile run) Gerry finished first by over 22 hours.
To book High Performance Speaker Gerry Duffy for your event, contact Front Row Speakers on +353 1 485 3991 or email welcome@frontrowspeakers.com