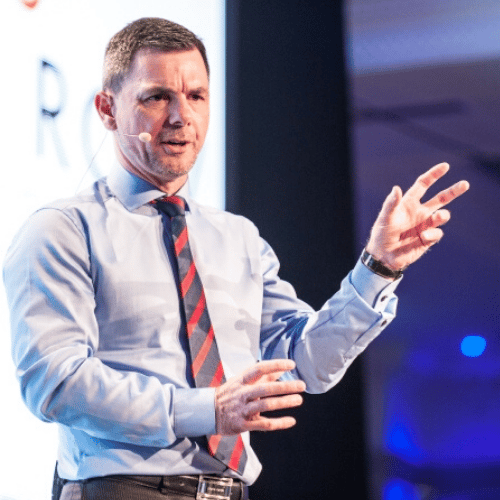 Gary Keegan
Gary Keegan currently sits on the IRFU National Professional Games Board and is the current Chair of the High Performance Advisory Group at Cricket Ireland. His previous role was Director of the Irish Institute of Sport.
The Institution of Sport is a government agency established in 2006 to manage and coordinate high performance sport in Ireland. Its mission is to create an environment of support which ensures that talented Irish athletes achieve sustained levels of excellence in elite sport. This involves a variety of support systems, tailored to maximise management, performance science, performance analysis and performance medicine.
Previous to this, he spent six years as high performance director with the IABA's high performance boxing programme. There, Gary and his team developed a renowned management programme that ensured major European, World and Olympic success, obtaining 29 medals across the age spectrum.
Gary has worked with leaders and organisations around the world charged with defining and sustaining a culture of excellence in execution. His team at Uppercut exists as a trusted partner to such organisations who truly want to solve the dynamic puzzle that a genuine pursuit of excellence presents.
Gary is a strong believer in facilitating individuals to realise their own potential through the creation of supporting environments that are conducive to the delivery of high performance. He has worked across a broad array of indigenous industry, and has lectured at a host of SMEs and MCS in the areas of high performance, the importance of systems, vision and strategy. Gary has also lectured at the London Business School and the Irish Management Institute.
Topics
Gary has spent most of his career immersed in high performance building, leading and supporting high performing individuals, teams and organisations. He developed and honed expertise and conceptual models while working with world-class leaders, coaches and performers. Gary supports organisations and their leaders to define and execute winning performance on demand.
Creating a world-class team
Focusing on performance, not outcome
Building trust in relationships
Collaboration
Culture
Embracing change
Becoming self-accountable
Learning from past failure
Creating self-belief
Testimonials
"Gary has made a profound impact on Dublin GAA football. He is a transformational leader in the truest sense, acting with integrity, encouraging innovation and he has an innate ability to inspire. Gary's purpose orientated approach resonates with those in the pursuit of the high performance space. I have seen at first hand his unflagging energy and distinctive ability to understand and contextualise specific needs of teams and identify, with clarity, growth potential. If emotional intelligence is the sine qua non of leadership, Gary's self-management, empathy and social skills gives him the ability to connect with and move people together in an impactful direction. The biggest compliment that I can pay Gary is that he has led a mindset shift enabling us to create a purposeful pathway in what we do and how we do it, in our continued pursuit of high performance."
​Jim Gavin, Dublin Senior Football Manager
"Gary proved to be a huge inspiration to all our attendees on the day, and left the group feeling buzzed and excited about high performance. Not only is his own story inspirational, but his ability to relate it to the business world and make it meaningful for everyone is excellent. I've been lucky enough to see Gary speak on two occasions now and he has left me with new things to talk about on both days. His willingness to engage before and after the event to ensure that his talk made a real difference to his client speaks volumes. I would highly recommend him.
Martin Graham, Customer Insights and Analytics Manager, Permanent TSB
"I have known Gary for the best part of 30 years. From his early days as a coach, it was quite evident that Gary saw and thought about not just sport, but individual and team development in a very different way. He is a strategic thinker and a has world class ability to lead and bring people on the journey with him. Having observed him working with teams, I have seen his ability to inspire and develop a culture of excellence. As high-performance director of Irish boxing, Gary created a system that achieved consistent world class results. As a personal mentor he has shared some invaluable advice which I am truly grateful for. He has encouraged me to never fear failure and to push the boundaries to achieve maximum performance. Gary is an excellent communicator who can mix his knowledge of both the world of high-performance sport and business to connect teams with performance excellence. As someone who has experienced and succeeded in the tough world of professional sport I can attest to Gary's capacity and skills to assimilate the unique contexts individuals, teams and organizations are in and use that understanding to affect real and impactful change."
Bernard Dunne, IABA High Performance Director. Former World Boxing Champion
"Gary is an inspirational leader who exudes integrity, expertise and strategic thinking. I worked with, and for Gary, for six years of his eight-year tenure as Director of the Irish Institute of Sport. During this time he consistently both challenged and inspired me, in equal measure. His character and energy are infectious and his ability to deliver succinct solutions to complex problems is exceptional. He is equally adept at developing comprehensive systemic strategy, or isolating the minutest detail impacting the delivery of excellence. Gary is a passionate High Performer with an expert understanding of High performance."
Ciaran Ward, Performance Lead at NI Judo
"I have worked with Gary on numerous projects, ranging from High Performance talks to leadership workshops and mentorship programs. His role as a world-class facilitator in High Performance and Leadership development is unique in its manifestation, due in no small part to the content of Gary's personal demeanour. A measured pace and calming disposition aptly describes Gary's commendable character, while his unyielding sense of determination in his area of expertise is a testament to the duty and passion he harbours towards the field of Leadership. I believe many who know Gary personally will agree with me when I say that his skills as a motivator, mentor and orator are wholly unique. Where his true greatness lies however is the way in which he distils his knowledge down, compartmentalizes the information and succeeds in gifting these lessons to all whom he meets. His diligence is exceptional and his passion inimitable. I have no doubt that his skills and qualities have enlightened many others and that he will continue to exemplify these admirable attributes in all of his future endeavours."
Gillian French, Chief People Officer at CarTrawler
"Gary Keegan is a genuine leader in the rarest sense of the word. He is not just an outstanding thinker but also a truly exceptional person that I have had the fortune of guidance from within the PEP Program in the Irish Institute of Sport to Olympic preparations on site in Rio de Janiero. Gary see's peoples potential and leads them beyond where they may not have believed was within their capability. When assessing he can understand complexity remarkably quickly and views an objective or problem beyond a persons normal dimensions. He articulates the parts to bring clarity, direction and benefit. When operating he relishes these process and the natural passion and leadership of his personality compels people to their best so the benefit is multiplied. He has an exceptional understanding capability through the various layers of any problem or plan, from the vision and strategy right through to the people and the detail. Gary's integrity is applied and stalwart, his character consistently inspires and he is a true master in high performance."
Rory Fitzpatrick, Manager & Olympic Coach at Irish Sailing Association
"Gary really got the message across to the audience on how we want them to work, but he did it through his experience of sport, in particular the boxing. He held the attention throughout his presentation of all the audience and the feedback from them was excellent. Would highly recommend Gary to anyone!"
Colin Hindle, Festival & Events, Fáilte Ireland
To book Gary Keegan for your event, contact Front Row Speakers on +353 1 485 3991 or email

[email protected]