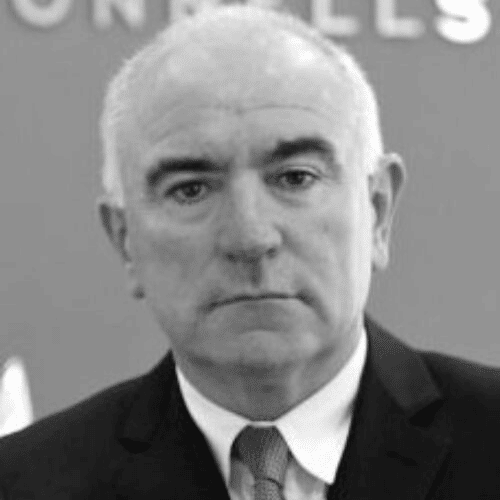 Gary Brown
Business & Marketing Expert
Gary Brown is an Irish business and marketing expert of international repute. An international Marketing Speaker on Relationship Marketing and Direct Marketing, a winner of over 75 Gold awards for Sales Marketing campaigns run in Ireland, his campaigns have won Gold awards from the Marketing Institute, the Irish Direct Marketing Association and the Irish Sales Promotion Association. This international marketing expert is the only recipient of a Lifetime Achievement award from the Irish Direct Marketing Association.
Gary Brown founded Target Marketing in 1990 which merged with McConnells Advertising in 2011, and is now one of the biggest Advertising and Marketing agencies in Ireland, Target McConnells. His company became the first Irish and UK agency ever to win the prestigious Diamond Echo award in Atlanta in 2005. Gary Brown has spoken at and facilitated conferences on marketing in over 7 countries. He was a former League of Ireland soccer player with Shelbourne F.C. and has helped launch the music career of international singer/songwriter Damien Rice and BellX1. He is a board member of Bord Bia.
Gary is versatile and can make presentations on numerous topics. He can be witty and humourous as seen in his Karaoke Marketing presentation, which is about the business and marketing tips that can be found in the top 10 most popular karaoke songs. In addition, Gary can also be deep and cerebral and make bespoke presentations. What applies to all of his presentations is that they are engaging and thought provoking, and above all, aimed at improving you and your business.
Topics
Gary Brown's presentations are thought provoking, witty and engaging, and above all aimed at improving your Sales and Marketing drive. Some of the topics he can cover include:
Building and maintaining profitable customer relationships.
Making your business remarkable
Turn your customer base into a fan base
Surviving and thriving in a recession
Effective direct marketing improves your business
Testimonials
"Gary Brown is one of the smartest minds in Irish Marketing" David McWilliams, Economist.
"Gary Brown challenges whenever blandness raises its head" – Niall O' Grady, Marketing Director Permanent TSB.
"Gary Brown has worked in true partnership with Diageo to deliver world class Relationship Marketing Programmes" – Oliver Loomes, Marketing Director Diageo.
"Gary Brown in a word, Outstanding" – Damian Devaney, former Marketing Director O2.