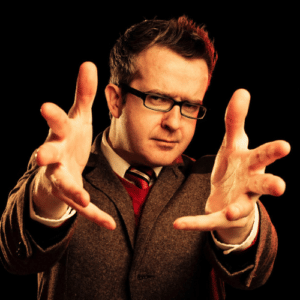 David Meade
Mentalist, Broadcaster, Performance Expert & MC
David has become one of Europe's most dynamic, engaging, and sought after keynote speakers with a client list that features some of the world's most successful organisations.
Working with clients that include PWC, Institute of Directors, Bombardier Aerospace, and EasyJet, David designs custom development programmes that fit the specific needs of organisations large and small. Cultivating decades of cutting edge management and leadership research from some of the world's most eminent sources, David has shown some of the most successful organisations in the world how they can work more efficiently and effectively.
David's keynotes, seminars and workshops are carefully designed to offer value and insight. He offers a range of bespoke, and off the shelf corporate speaking and motivational packages which are listed below.
If you've seen him live before you'll also know it can be a lot of fun.
If your workforce needs a morale boost, your organisation needs to implement strong team tactics, increase sales figures, or get your teams to start thinking 'outside the box,' David and his team can devise a bespoke plan of action to suit your business.
"As a leading voice in business, a broadcaster, and researcher in one of Ireland's leading Universities, he's dedicated his career to understanding what makes humans 'tick', and how it affects the way they think, feel, and act."
His early business career in Europe and the USA included leadership and strategic roles in the Hotel, Real Estate, and Retail sectors, where he noticed that two individuals working in the same role can perform at dramatically different levels of success and effectiveness.  On returning to Ireland he became a lecturer and researcher in Ireland's foremost Business Faculty where his passion for sharing cutting edge research in a dynamic and engaging style with energy and fun was formed.
"His boundless energy on stage and dynamic delivery means today he's one of Europe's most in demand speakers and trainers."
His sought after corporate services have established his reputation as a cornerstone international speaker on how organisations can work better, and his countless successful BBC One TV projects have made him a household name in his native Northern Ireland.
David is a leading authority figure within the Business Community because of his research and academic background, and years of management and leadership experience. With his love of performance and mentalism, and interest in popular psychology, consumer behaviour and choice, David has become a sought-after speaker with a reputation for an innovative style that forces audiences to think critically about the challenges around them.
David's keynotes and training workshops are built from the ground up around interactivity, engagement, and participation.
You've had years of PowerPoint at your event, and few things switch off delegates than another hastily crafted slide deck.  By putting the audience at the centre of the material and allowing them to drive the direction, you achieve a step change in the return on your event investment.  If you want any message to stick – whether it's a new strategy, refreshed sales messaging, or the importance of your customers, your audience have to enjoy hearing it.
"Delegates leave with a proven toolkit that they can apply and employ straight away to dramatically and sustainably improve their performance."
Without true ownership and accountability, no growth will occur.  After years of research, David has learned how to make meaningful change happen in his clients.  Attendees will be empowered with a practical toolkit that they can use immediately in their role, irrespective of hierarchical level, that can make fundamental changes to how they see their organisation and their role in it. By the end of the presentation they'll feel excited and enthused about the opportunities that the future offers the individuals and teams that comprise it.
Testimonials
"A standing ovation that seemed to last forever. I have never seen so many open mouths. Over three months later the staff are still talking about David." – Apple Inc.
"A very enjoyable session that was motivating and inspiring. Really insightful and encouraging whilst being entertaining plus great that it was still possible to do exercises despite it being a large group. This was the best external speaker I've ever seen! Great selection!!" – IBM
To book Mentalist, Broadcaster, Performance Expert & MC David Meade for your event, contact Front Row Speakers on +353 1 485 3991 or email welcome@frontrowspeakers.com