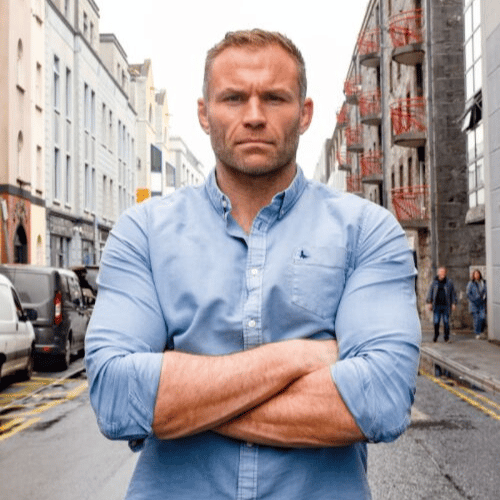 Damian Browne
Former Rugby Player, Extreme Adventurer & Speaker
Damian Browne is a former professional rugby player, traveler and adventurer hailing from Galway, Ireland. After a sixteen year career battling on the rugby pitches of The Celtic league, English Premiership and French Top 14 Championship, injury forced his hand and he made the tough decision to retire. During his down time from the intensity of professional sports Damian indulged his passion for travel and adventure, visiting more than 50 countries on 6 continents and challenging himself in different ways with a 3 week expedition into the high altitude Pamir mountains in Afghanistan, summiting Kilimanjaro in Tanzania, climbing Mont Blanc, France and Gran Paradiso, Italy.
In April 2016 Damian took on the might of the Sahara desert, completing the 6 day, 257km Marathon des Sables, also known as 'The Toughest Footrace on Earth'. After the race and a period of reflection, Damian commited to taking on the incredible challenge to row across the Atlantic Ocean, alone.
18 months of physical, mental and technical preperation led to the 14th of December where Damian kissed goodbye to his parents and shoved off into the unknown. 63 days, 6 hours and 25 minutes later he crossed the finish line of the Talisker Whiskey Atlantic Challenge arriving in Antigua 28kgs lighter to a heros welcome. Having endured 9 meter swells, a badly cut head, capsizes, encounters with whales, sea & pressure sores, losing an oar and complete steering failure with over 2000 nautical miles to Antigua, Damian said, "A hell of an experience, hell of an adventure and hell of a challenge. It was exactly what I wanted from the challenge, I wanted to be pushed to my limits mentally and physically and I sure got what I wanted and then some"
"I am on a mission to live an extra-ordinary life. A life full of challenges, extremes, learning, risk, growth, fulfillment and action. A life of integrity, sincerity and courage. My life will be my masterpiece."
Topics
"I don't have any other goal when I speak, other than to be honest, authentic and present. I try and recall situations and experiences I have lived during my extreme challenges and adventures, through how I felt at that time, because being able to communicate those genuine emotions through one's voice is what will have an effect on the listener."  – Damian Browne
Since starting his journey as a speaker, Damian has spoken using formats as wide ranging from fireside chats, slideshow presentations and keynote speeches. Hes covered topics including:
Drive
Responsibility & Perseverance
Extreme Challenges
High Performance
Hes spoken at companies such as Facebook and EY , has given a TEDX Talk entitled 'The hidden values in pushing your body to its limit' and had the honour to address the Irish Rugby  XV in the build up to their historic victory over the New Zealand All Blacks in Dublin, November 2018.
To book Damian Browne for your event, contact Front Row Speakers on +353 1 485 3991 or email 

[email protected]