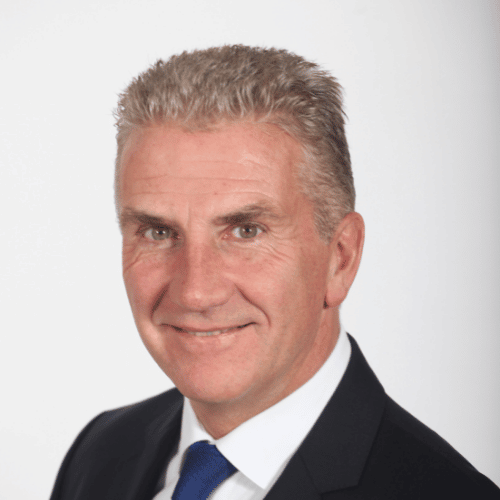 Paul McNeive
Inspirational Speaker on Business and Life
Customer Service Expert Paul McNeive is a Chartered Surveyor, and was Managing Director of Hamilton Osborne King when the firm was sold to Savills for €50million. Paul started his career as a trainee in the basement of the firm and not even the loss of his legs in a fire prevented him from rising to the top position to lead 250 staff.
Paul is now a sought after Motivational Speaker and works on business development with several leading companies. His autobiographical book on Business and Motivation, "Small Steps", is a bestseller. In "Small Steps" Paul passes on the lessons in positivity, motivation and goal setting which he learned in Rehabilitation Hospital and which he has used to prove that "Everything is Possible"- for example becoming the first double amputee in the world to gain a helicopter pilots license. Paul has also had two novels published internationally.
Paul McNeive writes a weekly Opinion Column in The Irish Independent on property and business and he is interviewed regularly on T.V. and radio. He serves on the board of The National Rehabilitation Hospital.
Customer Service Expert Paul also works as a singer and in comedy. He has written No. 1 songs and sung on TV and radio including "The Late Late Show", "The Mario Rosenstock Show", "The Business", "The John Murray Show" and the launch of "The Gathering." This experience in entertainment makes him a great "after- dinner" speaker, combining top level business acumen with the ability to entertain.
Paul McNeive is an inspirational and entertaining speaker who makes an unforgettable impact on his audiences.
Topics
Customer Service
Professional Services
Client Development
Selling
Leadership
Winning Pitches
Entertainment
Seminar Host
After Dinner Speaking
Senior Management Development
Facilitating Strategic Meetings
Challenging Status Quo
Stimulate New Thinking
Testimonials
"We were fortunate enough to have Paul deliver keynote addresses for us at a number of events across the country. With a diverse range of attendees, from start-up businesses to multinationals, Paul's storytelling was the highlight of each event. Engaging the audience with a blend of insight and humour in equal measure, the single most common piece of feedback we received from the audiences was "inspirational." – Neil Hetherington, Microsoft Ireland
"I have used Paul on a number of occasions as a motivational speaker in both customer and staff events. The reaction from both was just phenomenal, with feedback from all describing Paul as being a truly inspirational speaker." – Gabriel Bannigan, Regional Manager Dublin
"The standout speaker was Paul McNeive. He was stunning." – John Mullins, ex CEO Bord Gáis, reviews the Pendulum Summit on RTE Radio 1
"I don't think words can describe the effect you had on so many people from your speech yesterday. I was completely blown away by your presentation. I listened to the comments in the room once you finished and what I witnessed was something amazing. All I have heard today from managers is how amazing you were-in their words, you were Real, Honest and Believable. A massive Thank You." – Jean Tierney, Regional Development Manager
"Paul was the guest speaker at our annual conference and delivered a truly inspiring and motivational speech. On a number of occasions I looked around the room and could see my colleagues totally engaged in everything he spoke about. In the days following Paul's speech there was clear evidence of how much of an influence he had on those who were in attendance." – Paul Muldoon, Display Classified Manager, Independent Newspapers
"Paul was our guest speaker at our inaugural Property Team Day. Paul's personal story was very inspiring and was told in a very positive way which resonated with the entire team. His insight into customer service was a real eye opener and he set a very positive mood for the rest of the day." – Kevin Ryan, Head of Asset and Estates, Tesco Ireland