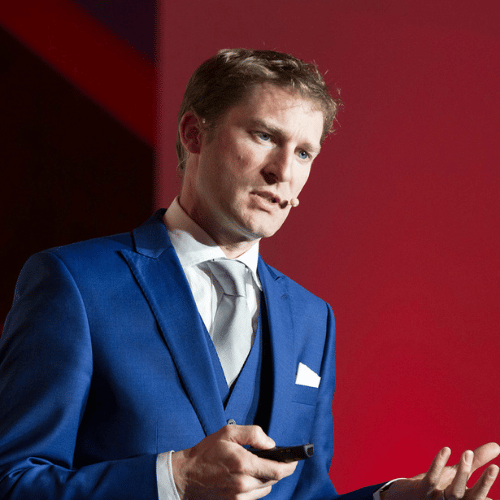 ​Ken Hughes
Leading Consumer & Shopper Behaviourist, CEO Glacier Consulting
Consumer behaviour expert Ken Hughes is one of Europe's leading Consumer and Shopper Behaviourist specialiss. Ken Hughes blends his vast expertise in consumer psychology, social anthropology, behavioural economics and neuromarketing to answer the question to which he has dedicated most of his career: Why do shoppers buy and how can we make them buy more?
While his boutique consumer insight organisation, Glacier Consulting, began life as a market research agency, he soon identified his key area of interest was people, not markets. How humans express their desires and expectations through how and what we buy has become his sole focus, resulting in his agency advising a global client base of some of the world's biggest brands – Unilever, 3M, IKEA, Coca-Cola, AXA and Heineken to name a few.
Ken is acknowledged as one of the most respected thought leaders on Shopper Marketing and Shopper Centricity, Omnichannel & Digital Strategy alongside Retail Futurology. He is a part-time professor in consumer behaviour and a board member & strategic advisor to many organisations on the future of consumerism and shopper trends.
His latest TED talk also showcases his unique approach as a Playologist, motivating individuals and his corporate clients to unleash their creativity and innovation through a blend of discovery, fun, play, mischief and risk.
Voted best speaker at most conferences he has the honour of being invited to attend, it is for his international career as a keynote speaker he is most famous. His keynote speeches deliver thought disrupting and inspiring content in a captivating and highly energetic manner, all served with a generous helping of Irish wit.
Topics
THE DIGITAL NATIVE ADVANCE: A NEW SHOPPER DNA
– The Shopper and Consumer blueprint has changed thereby impacting on their fundamental behaviours, needs and requirements as shoppers. What are the implications for your business and what do you need to do to survive?
– This generation are less interested in buying 'things' and far more interested in having 'experiences'. How can we use our brands to deliver the kind of life experiences this generation expect, and add real value within the new emerging 'Sharing Economy'?
– If peer networks have overtaken the brand's own voice in terms of relevance, how best can we build conversations with our target market in the future?
EXPERIENTIAL RETAIL: THE NEED FOR POSITIVE DISRUPTION
– Why do the shopper behaviors of habit and routine block incremental sale?
– How can Positive Disruption engage shoppers in-store encouraging them to consider impulse sales?
– Learn why shoppers react when we communicate across multi-sensory platforms, and why experiential retail is the future, for all retailers.
WE'RE ALL A BIT CRAZY: HARNESSING SHOPPER IRRATIONALITY (SHOPPER PSYCHOLOGY)
– Learn how shoppers think, how they behave, how they make their decisions and how to influence those decisions.
– What can we do inside our stores to change shopper behaviour and sell more?
– See how an understanding of the psychology of decision making can unlock more sales opportunity than traditional sales and marketing methods.
SHOPPER MARKETING & SHOPPING CENTRICITY
– Learn why Shopper Centricity is no longer a choice for consumer goods organisations but an ethos to embrace.
– See how Shopper Marketing finally delivers the win-win that Category Management and Trade Marketing never did.
– Gain an insight into what pitfalls await smart organisations as they prepare to focus their strategy on Shopper (and how best to avoid them)
– How the very DNA of the shopper has changed in terms of their expectations around product delivery, and what this means for the future of Supply Chain.
– How businesses must prepare themselves for the consumer demand of personalisation, and what implications this has on Supply Chain.
– How Supply Chain is pushing past an invisible support function into the limelight of product and customer experience.
TIME BENDING: HOW TO CATALYSE CREATIVITY & INNOVATION
– Learn why routine and a fear of failure encourage organisations to play it safe and never reach their innovation potential.
– See how play and risk are the true catalysts of personal and professional change and why we should do much more of both.
– Understand why corporate innovation requires personal eureka moments and how organisations need to encourage a sense of personal play.
Testimonials
"Asking clients to take time out of their busy schedules to travel to Ireland for our annual conference is not something that we take lightly at CarTrawler. We work hard to produce an event that keeps guests engaged and inspired for the duration of their stay. Front Row Speakers played an important role in helping us to secure a top-tier guest speaker [Ken Hughes] that exceeded expectations and added great value to our conference." – Joe Farinella, Director of Marketing, CarTrawler