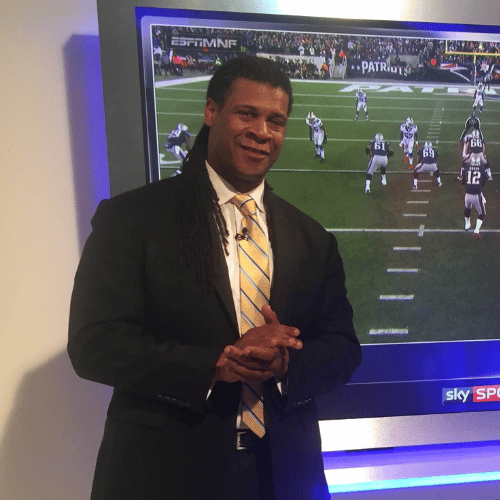 Cecil Martin
Former NFL Full Back & current Sky Sports NFL Analyst
Cecil Martin is a former American football full back in the National Football League who will be better know at this side of the Atlantic for his work as an analyst on Sky Sports NFL coverage.
Martin's football career developed during his time at the University of Wisconsin–Madison culminating with a Rose Bowl victory in 1999. He was drafted as a Pro player in the sixth round of the 1999 NFL Draft by the Philadelphia Eagles. Ever-present in the Eagles 2000, 2001 and 2002 campaigns, all three ending in the team qualifying for the playoffs and remained with them until the end of the 2002 season. After spells with the Oakland Raiders and the Tampa Bay Buccaneers, Martin retired from professional football having played 61 regular season and 7 post season games across his 5 seasons in the game.
Martin has won multiple awards for his community work and has been instrumental in the promotion of NFL in the UK market in both live games hosted at Wembley and also through his broadcasting activities. He is also an accomplished, motivating and entertaining public speaker. While his experiences at the top echelons of NFL are the basis of his learnings, his ability to reach out and connect with his audiences have made him a much sought after speaker.
Topics
NFL, U.S. Professional Sports as well as team & personal motivation delivered through prepared scripts, Q&A or interview style presentations.
Testimonials
"As a teacher at one of the largest schools in Europe for over 20 years, I have never experienced one person coming into the school and creating such an immensely positive influence in such a short space of time. Your enthusiasm was incredibly infectious. We agreed that if only one student was inspired to make that all important positive change in their life, your visit would be worth it. Well, at school of well over 2000+ students, I can safely say, there was definitely more than one student whom you inspired, in fact you inspired several teacher, as well! 'Thank you' is a woefully inadequate thing to say. But you'll know it is from the heart!"  – Rob Rooksby, Teacher, Staff Governor and American football coach: Exmouth Community College, Devon UK" 
To book Former NFL Full Back & current Sky Sports NFL Analyst Cecil Martin for your event, contact Front Row Speakers on +353 1 485 3991 or email welcome@frontrowspeakers.com